Sichaun, China
April 29, 2013
Xinqun, age 12,
grabbed her 6-month-old baby sister when the earthquake struck and ran to an
open area, away from her home.
Both sisters were
unhurt in the 7.0 magnitude earthquake that struck on April 20th,
2013, that killed at least 190 people and injuring at least 11,000 others.
Xinqun learnt to react in an earthquake after her school
started holding earthquake drills, highlighting the importance of preparing
children for disasters in these quake-prone areas.
"The roof collapsed,
and the walls cracked. But thank goodness that no one was hurt," she said.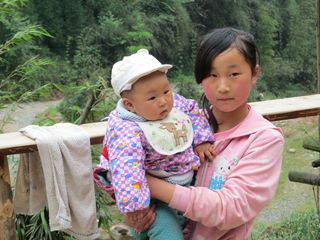 The two sisters live
with their grandparents and mother. Their father works in Kangding while their
elder sister works in a factory in Lushan. Both were in quake-hit areas, but
were unharmed.
"The first night after
the earthquake, we slept in a makeshift shelter and we had hardly any food to
eat. Even my mother did not seem to have enough breast milk to feed my 6 month
old baby sister," Xinqun said.
"Each time there was
an aftershock, I was very scared."
Yuxi Village is
Baosheng township's most remote village. It took more than a day for the rescue
crew reach them and set up a camp site for them. On the evening of April 21st, Xinqun and her family had a tent over their heads and received bottled
water, instant noodles and rice from the government rescue team.
"I wished my sister
could have some diapers," Xinqun said. "She wets the bed now without any
diapers at night, so I hope we can get her some soon. "
When Save the Children arrived the following day, we were told that no
other aid (besides the dry foods, bottled water and shelter) had reached the
quake-affected population but the people needed essential items such as
diapers, towels and soaps. As such, a range of immediate relief items were distributed, including towels, sanitary napkins, soaps, hand sanitizer, raincoats, plastic
tarp, toilet paper and baby diapers
to 148 families in Yuxi village, reaching 200 adults and 244 children.
Xinqun came on behalf
of her family to collect the relief items. "I'm glad
that my baby sister has diapers now," she said.
Xinqun also hopes to
return to school soon. She studies in a primary school in Lushan, and comes
home to spend time with her family on weekends.  
"We could not contact
the teachers or the school after the earthquake so I did not go back to
school," she said.  
"I really want to
return to school soon."