Fan Xiaowen, Program Manager 
Sichaun, China
April 23, 2013
Li Zixin was playing when a 7.0 magnitude earthquake struck Sichuan Province on 20th April, killing at least 190 people and leaving thousands injured.
"I was playing at home," 6-year-old Zixin said. "My grandmother pulled me up and we ran outside. We watched our house collapse."
The temblor left Zixin and many of his neighbours' homes badly damaged. When they went back in, they found that all their furniture and belongings were destroyed except for a few bowls. Zixin lives alone with his 86-year-old grandmother in Jingkou village, Sichuan Province, China, as his mother passed away when he was just six months old and his father works in Xi an in order to support the family.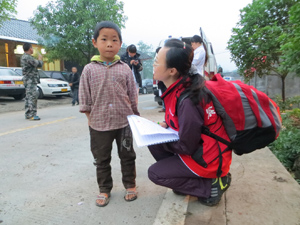 "On the first night, we were too afraid to sleep in side, so we slept in an open area," Zixin said. "We did not bring any extra clothes with us."
Military officials arrived the next day, setting up a camp site for about 60 families who were displaced in the disaster.
"Grandmother and I were given a tent to sleep in and some biscuits and bottled water," Zixin said. "It was raining all day and night and the ground was very wet. It was very cold throughout the night."
Save the Children arrived in Jingkou village two days after the earthquake. The team brought with them initial relief supplies including towels, sanitary napkins, soaps, hand sanitizer, raincoats, plastic tarp, toilet paper and baby diapers.
The team was told that families had no water to wash their hands because there was not enough clean water, so the assessment team distributed 48 bottles of wash-free hand sanitizer to the camp centre.
Having lost their home and all their belongings, it may be a while before Zixin and his grandmother's lives return to normal. The young boy has not been enrolled in preschool as his family cannot afford the school fees.
Zixin said: "I hope to have a space to play with the other children here."