Annie
Bodmer-Roy, Senior Media Manager, Emergencies and Advocacy
Gao, Mali
February 26, 2013
This
is what 15-year-old Aissatou finishes with. We have been talking for almost an
hour – she has had so much to tell me. It's hardly surprising, after everything
she has been through.
Forced
from her home over one year ago, Aissatou was more than eight months pregnant.
She was 14, and gave birth to her son Salam less than one month later, on the
run and staying in Gao.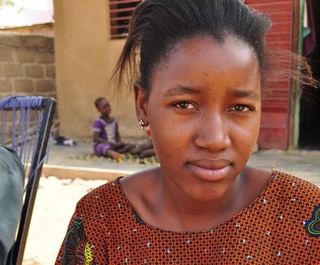 She
still remembers the day the rebels first entered her town, but the words come
hesitantly at first, in short pieces. "I was really scared," she starts. I ask
what she was doing before the attack started. "I had been having fun. I was
playing with my friends. Everyone was outside. It was a Friday."
"First
we heard gunfire," she remembers. "We thought it was the military. Then we
started seeing people running everywhere." Aissatou tells me she started
running too, straight into her house. She stayed there for two days without
leaving.
It
was on the second day that she finally came out and heard what had happened.
One of her friends had been hit by a stray bullet. She was alive, but needed
urgent medical treatment, and was fleeing the town for a refugee camp in Niger.
Aissatou's
family had also been directly affected. As she describes what happened, her
pace picks up, rushed, as if she wants to get the words out as quickly as
possible. She tells me how her brother-in-law had been accused of stealing. She
explains how, under the rebels, the punishment for this was amputation. She saw
her brother-in-law after it happened – his hand had been cut off at the wrist.
As she explains this to me, Aissatou looks down at her own hands, drawing a
thin line with her finger over her wrist, over and over again. "It wasn't
true," she says, looking back up at me. "He said he hasn't stolen anything."
But
what hit Aissatou the hardest wasn't either of these things. It was what
happened to her friend Ines. And it's now, telling Ines' story, that the words
pour out of Aissatou's mouth. She stares me straight in the eyes, and I can see
the horrific events playing back in her mind as she describes them.
"The
rebels went into the village and took girls – not women, but girls. They were
15, 16, 17. They said they needed the girls to go prepare food for them. They
took them into their cars and brought them into the bush. They left them in the
bush after they were done raping them – but they beat them before leaving. I
know because my friend was one of them. There were 16 girls in total. My
friend's name is Ines*, she is 15 now. She was 14 then, like me – we went to
school together," Aissatou starts, and then paints a vivid picture of just what
happened to Ines.
"She
told me that they took her by force. They threatened her with their weapons to
make her sleep with them. There were 20 men but only 16 girls – so some of the
men shared the same girl between them. Ines was lucky; there was only one man
who took her. Afterwards though, he hit her five times with a long rod before
she managed to escape."
Beaten
and abused, Aissatou's 14-year-old classmate ran from the bushes, but in her
fear and confusion, fell when she reached the road. Aissatou says that's how
the men from her village found Ines, and brought her back home again. Ines told
her classmate the whole story before Aissatou got her brother and brought her
friend to the hospital. Aissatou and her family fled the town the next day, and
she hasn't seen Ines since.
As
she finishes her story, Aissatou pauses. She looks at the ground down for a
second, almost self-conscious. "Even now, even if I'm here," she starts, "…I
can't forget what happened. My head is full of these things – what happened to
my friends, my family…" She looks up one more time at me, willing me to understand.
"It's
not peaceful in my head."