Seema Baral, CASP Director
Kapilvastu, Nepal
February 1, 2013
A bumpy ride along the exhausting track to Kapilvastu in western Nepal wasn't a problem when all my thoughts were
focused on reaching Ram Dulari Primary School. I had heard from our local partners
that the school had made a lot of progress, and I was excited to see the changes
from my first visit in 2009, when Save the Children were about to begin sponsorship
programs in this new impact area.
I remembered from that first visit there were only 14 students
present in grades 1 to 4. In total, only
82 students were enrolled in the whole school. The two teachers were both volunteers. 
In 2010, when I visited again, there were only 7 students
present in grades 4 and 5. The teachers explained that due to a local festival,
many children were not there. I had felt disheartened by the number of students
present and didn't even check how many were enrolled. The few parents there shared
that the teachers do not come to the school regularly, so the children also
tended to miss school. The teachers on the other hand complained that parents
were not serious about sending their children to school. It made no sense to
see such low community participation and drive from parents or the school to
educate the children. 
Save the Children shortly started working with a local
partner to orient parents, promote early childhood development programs, create
a quality and fun learning environment for primary school children, and promote high
school attendance.
When I reached the school I could see that though there are
still a lot of challenges remaining, little efforts were helping bring a huge
change to the most challenging environment we work in.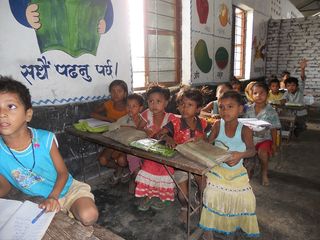 The school now has 211 children enrolled in grades 1 to 5. 87 were present
the day we visited.  Four teachers were
running classes. The school had managed to acquire a teacher supported by the
community, and start an early childhood care and development class with 15
lively children and a trained facilitator.
Although the attendance didn't satisfy me, there is
encouraging progress that I am very proud of – proud because Save the Children
is there to work with the community, with the schools and with the children,
encouraging them to make the best of their formative years. 
Change takes time, but with collaborative effort and support
from the community, change is certainly possible.
Interested in joining our community of sponsors? Click here to find out more.