Elizabeth Richard, Assistant
Sponsorship Operations Manager and Translator

Maïssade, Haiti

January 10, 2013
As Save the Children transitions out
of the Maïssade community, a local association, ANORMA, is now ready to take the
lead.  
Summer vacation is at its end and many
children who participated in this year's summer camp are headed home with new
friendships, a sense of confidence and new skills. This was the first summer
camp led by ANORMA, a local association,and judging by the positive feedback it
will be the first of many. 
The camp welcomed boys and girls from
12 to 18 years old to be trained in basic computer skills, French, floral art
and dance. The two week camp was an occasion for the local group to not only demonstrate
its ability to manage the program, but also to recruit community support for trainings.
Indeed, local teachers, florists and even cooks volunteered and added greatly
toward the program. The result was tremendous.
During the camp, many children had
their first opportunity ever to work on a computer. Others had an opportunity to
develop their public speaking skills, while younger children developed their
sense of self-assurance and pride through dance and floral art projects. It was
amazing to hear a 14 year old share her wish to open a floral boutique when she
finishes school.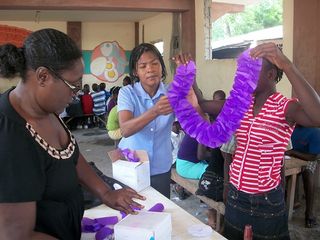 The closing ceremony was the perfect
time for ANORMA to give thanks to Save the Children for all their support which
led to the successful camp, and share how all the participants had developed new
skills – how to be a better artist, a designer and a better person.  ANORMA's goal
is to continue to work with the community by supporting local schools and to work
towards becoming a notable training center in the region.
Save the Children's work with local
partners like ANORMA, training them in school management and capacity building,
assures a smooth and efficient transition of all the activities the
organization has provided.     The achievement of ANORMA's first summer camp is
not just a reward for Save the Children,but also a sign of what can be
accomplished in the face of adversity.
Interested in joining our community of sponsors? Click here to find out more.