Norman
Gagarin, Water Sanitation and Hygiene Program Officer
Mindanao, Philippines
December 5, 2012
 While the residents of Mindanao were still
fast asleep Tuesday morning, Typhoon Bopha approached the southeastern coastline
of the Philippines, packing 130mph of wind and heavy rain. The powerful winds
and rain were unlike anything I had ever seen before.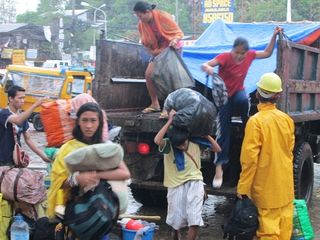 Despite being a much stronger typhoon than
Typhoon Washi, which killed more than 1,200 people– most of them children -last
December,the fact that people were vigilant made all the difference in this
storm.The day before it hit, I watched as the people of Mindanao prepared for
the arrival of Typhoon Bopha, or Pablo as it is known locally. Families stocked
up on food, water and other essential supplies in stores while others packed up
their most precious belongings and headed off to evacuation centres all over
the island. This is stark contrast from the scene last year, where many failed
to heed warnings from authorities to evacuate.
"I'm happy that my parents brought my
siblings and me here before the storm," a child at an evacuation centre in
Cagayan de Oro told me. "We feel safe here from the storm." Cagayan de Oro was
one of the worst-hit cities in Mindanao after Typhoon Washi. Many children
displayed signs of distress following that disaster and required psychosocial
support from the government and aid agencies like Save the Children.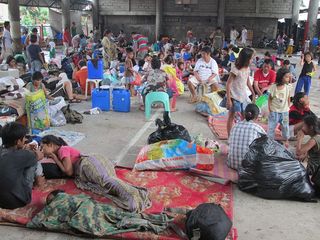 Indeed, it is a relief to see that both
children and adults were more vigilant ahead of this typhoon, the worst storm
to hit the Philippines this year. Mindanao does not experience typhoons often,
and as a result, the residents here are less prepared than others.
Still, immediate relief like food, water,
medicine and other household items are needed.Water, sanitation and hygiene, or
WASH, is my area of expertise and we know that water supplies may be
contaminated, and with large swathes of
Mindanao flooded and without electricity, assessing the extent of the damage and
bringing water trucks to evacuation centres will be tricky for the authorities
and aid agencies alike.
Click to donate to our Philippines Annual Monsoon and Typhoon Children in Emergency Fund.
Save
the Children has been working in the Philippines since 1981 and has decades of
experience responding to emergencies in the Philippines. We have mounted
large-scale emergency responses to Typhoon Washi in 2011 and Typhoon Ketsana in
2009.