The Noerr Pole
December 6, 2012


Ho, ho, ho, my friends, big and small! With the year 2013 almost upon us, my tech-savvy elves insisted that it was time for Santa to put his pen and paper aside (at
least just this once) and try my hand at blogging. So, here I am, sending my
letter from the Noerr Pole (that's right, not a typo), into cyberspace. You may
call me Santa 2.0 from now on.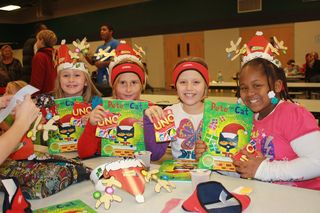 So
why did I choose to write a guest blog post especially for Save the Children,
you may wonder? Well, I've been searching far and wide for an organization to
partner with, so we can help create magic together for children wholive in
poverty-stricken communities, without access to the tools and education they
need to succeed. When I came across the hard-working elves at Save the
Children, dedicated to making this world a better place for all children, I immediately knew that I had found my dream team. 
After all, Save the Children and I have more than a few things in common. We both
believe in the spirit of generosity and kindness and don't mind working around
the clock to fulfill the hopes and dreams of children.
Plus, we share the same great taste in fashion. If you haven't noticed, much like me, Save the Children is partial to the color red! Come to think of it, I would
look quite dashing in one of their red shirts. (Are you listening, Save the
Children?)
After meeting with the wonderful Save the Children team, I introduced them to their
kindred spirits at The Noerr Programs, one of the nation's leading Santa Photo
Experience providers. Noerr joined forces with Save the Children's U.S. Programs
in 2009, collecting more than $365,000 to date to benefit children living in
poverty who know all too well what it means to go without.
As part of this joint effort to help kids in need, I recently took my sleigh on a
whirlwind tour, visiting hundreds of 'sugarplums' in Kindergarten through fifth
grade at Save the Children's after school programs in the rural communities of
Augusta, Ark., Coffeyville, Kan., and Alamosa, Colo.
My journey through the heartland proved that the greatest rewards are those of the
heart. For me, witnessing the joy, wonder and delightful giggles from children
meeting jolly ol' me in person was the greatest gift of all.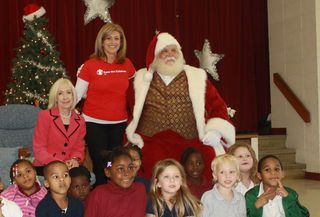 In
Augusta, Ark., a distinguished guest, Mrs. Ginger Bebee, wife of Arkansas Governor
Bebee, joined me in sharing the message of 'Read, Learn and Be Merry!'
Together, we read Christmas tales and encouraged children to "Give it their all"
when it comes to education. Of course, my day is never complete without a
cheerful chorus of 'Jingle Bells,' to which the children happily sang along.
Then it was time to head Santa's sleigh to Coffeyville, Kan., home to the largest
public school in the state of Kansas. There, I read "'Twas the Night Before
Christmas," and invited two eager children from the audience to act out the
famous tale with me onstage. Then I fielded questions from the rapt audience, who
showed clear concern for my reindeer's whereabouts and diet.
The final stop on my American tour this year was Alamosa, Colo., where I paid a
surprise visit to hundreds of students at Alamosa Elementary School. Alamosa City Councilman Josef Lucero joined me in reading a Christmas story and lent a helping hand putting smiles on the children's faces.
During each of the visits, my helpers and I surprised the kids with a gift of books, play cards, festive reindeer antlers, and cozy ear warmers, made possible by the generous folks at Scholastic, UNO, McCain Mall in Arkansas and Independence Center in Missouri.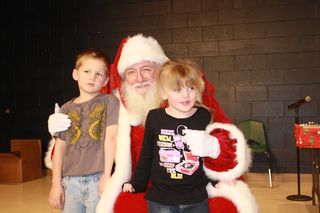 So that sums up my fun-filled and heartwarming adventure visiting the children Save the Children is serving around the country. But before I sign off, I
wanted to urge all you parents out there to try out this fun activity,
2.0-style (my ever-so-hip elves have taught me well!).  To reinforce the message that learning to read is a stepping stone to success in life, The Noerr Programs has created an online Be Merry! Badge Generator at BeMerrySanta.com. Parents can go online with their children, and just like magic,
I will personally generate a customized badge for reading books. (Like I said,
I am trying to keep up with the modern times and technology.)To make Santa's
nice lists, children can show me their badge at any Noerr Programs Santa Experience throughout the United States on a smartphone, tablet or printed out.  Proud parents can also post their child's badge to Facebook, tweet it or email it to
grandparents.  
One last thought: During your visit to one of my temporary outposts near
you, don't forget to leave a donation for Save the Children. It's the quickest
way to get in the holiday spirit and Be Merry! Ho, ho, ho!!