December 3, 2012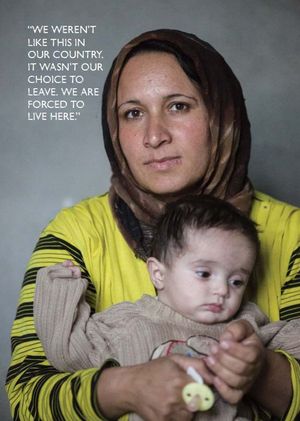 Nadia, 30, has four young children. Zahra, her youngest, is only
five months old. Her other two daughters, Hela and Shahad,
have begun coughing. They are living in a bare building in northern
Lebanon, where they have taken refuge after fleeing growing
violence in Syria. With winter approaching, the mother-of-four
increasingly fears for her children's health and wellbeing.
"We left – they were bombing our village. We didn't dare to sleep in our houses from the
bombing. Our neighbour's house was destroyed, to the ground. We ran away and came here.
We ran here, me and my little children. I was pregnant. Now it has been eight months. We are
living in the cold. It's very cold here. We haven't any blankets, or even food for the baby.
Life is hard here. It's cold. We are scared of hunger. We are scared because we don't have
blankets. We are scared of the winter … all of my children are sick."
Looking down at baby Zahra in her arms, Nadia says, "This is my daughter. She's sick. She's five
months old and shouldn't be in such a room. It's very cold. There's nothing to warm us. We
don't have a heating system. We don't have fire or gas. If we want to heat something up, we
make a fire outside. If I want to wash the baby, we have to make a fire, heat the water outside
and then wash her.
"We weren't like this in our country. It wasn't our choice to leave. We are forced to live here.  It's not our decision. We want to go back to our country as soon as possible, because our
circumstances were better there. We were happy and comfortable in our country. But we
were forced to come here. We were too scared. That is why we came here. We ran away
from bombing."
But finding respite from the conflict has not ensured a safe existence for Nadia or her
children. With no income and next to no money, Nadia isn't able to buy her children food,
milk, winter clothes or blankets to keep them warm and healthy. "I can't buy them blankets
with my own money. I feel I am weak because I can't offer anything for my daughter. She's five
months old – she doesn't know anything. i'm the one who is supposed to offer her what she
needs. She's only five months old, she's still so young."
___________________________________
Click here to learn about our work to help Syrian children in need and donate to help us reach more.