Penny Crump, Web Writer/Editor
New Jersey, USA
November 4, 2012
After meeting
Kelly at a Hurricane Sandy shelter in North Jersey, I thought I'd never see her
again as she got onto a bus headed back home. I was happy she'd be able to sleep
in her own bed. She'd hopefully find her home intact, including her beloved
stuffed monkey named Rosy who got left behind when her family was evacuated.
I was playing tea
party with some little girls in our Child-Friendly Space, when I heard a familiar
voice. It was Kelly! She called out to her little cousin Didi age 2, who was
delicately eating an imaginary cupcake at our party. Peals of delight filled my
ears, as they made that squealing noise in a register that only little girls
can produce.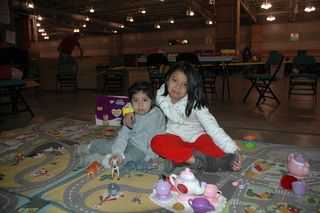 Kelly seemed in
good spirits, but my heart went out to her knowing that she would be staying in
a shelter once again. She told me that after they left the shelter where we
met, they tried to go home.
Their modest apartment was unharmed by the
storm, but the heat still wasn't working.  Kelly dashed through the
apartment to her closet, where she found Rosy! They tried to sleep in their own
beds, but it was just too cold. After the storm, the temperature dropped
dramatically — it was in the 30s with wicked winds. Her parents decided take
Kelly and her little brothers to an economy motel for the night and return to a
shelter until their heat comes back on. With a nor'easter coming, warmth is all
the more important.
Knowing Save the
Children would be at the shelter with toys, her mom, Natividad decided it would
be best to travel light and leave Rosy safe at home. Kelly was ok with that and
held tight to Didi.
Not soon after
she arrived, Kelly made fast friends with two other little girls. They had so
much energy to burn off having been cooped up in shelters for nearly a week.
With all four of us holding hands, we went skipping around the shelter singing
"We're Off to See the Wizard". There really is no place like home, but we're
thankful we can help kids make the best of it while they're here at the
shelter!
Kids like Kelly
and Didi need caring people to support Save the Children's response efforts.
Please give generously to our Hurricane Sandy Relief fund.