Penny Crump, Web Writer/Editor
New Jersey, USA

November 3, 2012

"I forgot Rosy!" Kelly said, with worry in her voice. Rosy was left behind when Kelly and her family evacuated due to Hurricane Sandy. Rosy is Kelly's oldest and dearest friend – her stuffed monkey.
I met Kelly at our Child-Friendly space at a shelter in New Jersey. Save the Children provides a safe place for kids to play, read and cope with the aftermath of the 'superstorm'. It can be scary for kids in disaster shelters, surrounded by strangers and going without the comforts of home.
Kelly and her family have been in shelters since Sunday night when Hurricane Sandy was on a path that would soon devastate their community in New Jersey.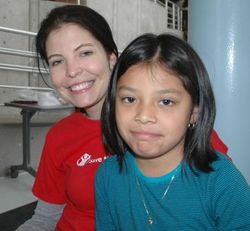 Kelly and Save the Children's Amy Richmond at a hurricane shelter in New Jersey.
Photo Credit: Penny Crump / Save the Children.

Kelly is in third grade and looks forward to seeing her school friends and returning to art class. One of the things she likes at the shelter is that there are art supplies and other activities for kids. Kelly also liked the books and enjoyed a "tea party" with some of her little playmates.

Kelly keeps a watchful eye on her little brothers, Kevin and Kenny. She wants to be a doctor when she grows up, and you can tell by how patient she is with them that she'll be a great caregiver someday. She really appreciated the toys for her brothers – dinosaurs and wild beasts. There were also fun games for older kids, as well as books. Kelly likes mystery novels best, they help keep her mind off a very difficult situation.
"I don't know when I'll ever be able to go home" she tells me. She's concerned about the apartment where her family lives as it's in a low-lying, distressed community. "The first thing I am going to do when I get home is check on Rosy."
Kids like Kelly need caring people to support Save the Children's response efforts. Please give generously to our Hurricane Sandy Relief fund.
Text HURRICANE to 20222 to donate $10 to Hurricane Sandy Relief from your mobile phone. When you receive a text message, reply YES. (Standard text messaging rates apply.) Read the fine print.