Penny Crump – Web Writer/Editor
Atlantic City, New Jersey 
November 5, 2012
In the aftermath of Hurricane Sandy with temperatures
dropping, Save the Children rushed to deliver blankets and other cold-weather
supplies to Hurricane Sandy survivors.
One of the children we've been helping is 4-year-old Didi. While Didi got an imaginary
"check-up" from her older cousin "Dr. Kelly" at our Child-Friendly Space,
other children needed real-life medical attention at the shelter. With everyone
staying in close quarters, exhausted from the upheaval and a nor'easter on the
way, conditions are primed for kids to catch colds – or worse.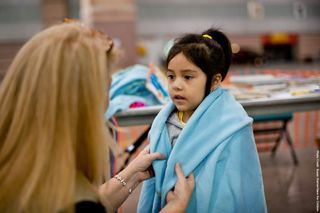 To help keep children warm, we're sending cozy onesies,
jammies, hats and mittens.
Save the Children is also delivering educational materials
to our Child-Friendly Spaces to help reinforce healthy hygiene, the best line
of defense against diseases. Things like hand-washing and eating healthy snacks
can help kids fight colds, and promotes healthy behaviors in the future.
What's more, we're providing parents with the supplies they
need to help keep kids clean and healthy, such as diapers, nutritious snacks
and hygiene supplies.
Hopefully,
Didi will be able to go home to a safe, warm home soon. Kids like Didi need
caring people to support Save the Children's response efforts. Please give
generously to our Hurricane Sandy Relief Fund.