Eman Mahrous, Early Childhood Care and Development 

Manager
Assuit, Egypt
 After an hour of driving on the Upper Egypt agricultural road we reached Kom el Mansoura village, part of the Assiut governorate, to visit one of the Early Childhood Care and Development centers.
 As I entered the classroom the children happily greeted me with awelcome song and beaming smiles. I talked with them a little to see that they are doing well, enjoying the classes and to ensure that they're benefiting from the services Save the Children provides.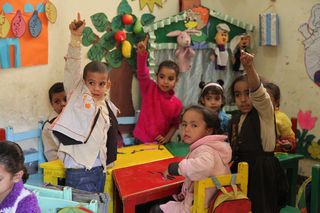 After my conversation with the children they return to their coloring, drawing, and writing. During the classes, the children feel free and safe in an environment ideal for learning – one which every child should have, but unfortunately many still do not.
 One mother arrived at the center to bring her child lunch and I had a chance to speak with her. I asked if she is satisfied with the ECCD
services and if she sees positive changes in her child. She replied happily:
ECCD is like a dream come true; before we were constantly wondering why no one could see our problems and was helping our children, not even government officials. Then all of a sudden, our calls for help are answered. Now we have a safe place for our children to play and get an education that will help them make an easy transition to primary education since they are familiar with the school environment. Since joining the program our children are able to express their needs, communicate better with their peers and their behavior ha s improved.
The most important thing though is the parent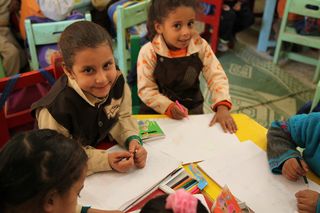 education sessions
that we attend.
Save the Children staff tell us all about common problems our children might face, how to solve them, the best ways to deal with our children and how can we support our children while they grow.
After hearing all of that, I can honestly say that the voices of the people we work with is the motivation which helps Save the Children staff,
like me, work harder and reach more children and communities in need with these beneficial services.
 Interested in joining our community of sponsors? Click here to find out more.