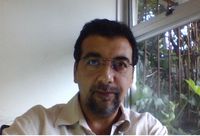 Raúl Pineda, Sponsorship Manager
Las Mesas, El Salvador
October 17, 2012
So often many good acts go unnoticed. And this is good, most times.
But there are other times where these same good acts create an avalanche of good deeds that surpass our expectations, when these actions are made public.
I'm not talking about daily activities where we all try to do our best for our family, friends and work. I'm talking about the incidents we have in the lives of so many people while working for or interacting with Save the Children.
An example of this could be seen in the newspaper last week, where Save the Children was highlighted as an important actor in a project working to stop and eradicate human trafficking in the region. Our involvement in this project is so impactful that even government entities look for our advice and participation in the decision making at the highest levels.
This has been a major success because the results have been made public and have shown that this problem can be addressed with the appropriate measures. We feel proud to be a part of this, not because we were in the spotlight, but because the issues surrounding human trafficking are now being handled by more government entities and a likely solution is really in sight.
Interested in joining our community of sponsors? Click here to find out more.