Crispín Acosta, Basic Education Facilitator
October 12, 2012
My name is Crispín Acosta and I work for the Wawakunan Purina Program (We work with the children) as a basic education facilitator at the San Nicolás School in Bolivia. My work offers me the
opportunity to work closely with the entire school community – children, parents,teachers and the authorities. Through my work I recently had the opportunity to talk with Mrs. Feliza Asteti from Oruro in the Challapata Province.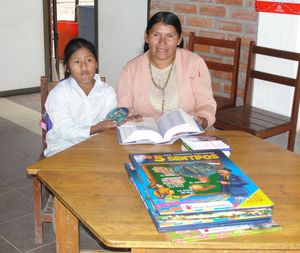 The Asteti family moved to Cochabamba 16 years ago. They live near the Nicolás neighborhood and like many in this area they suffer from deficiencies in basic services such as water, electricity, sewerage, telephones and transportation.
During my conversation with Feliza she clearly showed how happy a mother gets, knowing that her daughter Daniela is sponsored and has friends in other countries.
With a beaming face she asked me how to pronounce Daniela's sponsor's name in English and explained how happy and excited Daniela is to receive and send letters and drawings to her sponsor.
T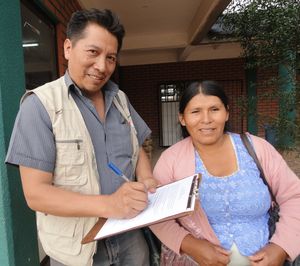 he education materials delivered on behalf of Save the Children are also a great source of joy for both the students and parents. "I have seen the materials that were delivered to the school. Bookshelves and many books, balls, toys and materials so they learn better, like calculators. I also participated in a workshop on how to speak with my family and how to treat my children. This was very helpful and I want to continue participating in this type of workshop," shared Feliza.
A parent's emotion and satisfaction of being able to rely on educational materials of equal or better quality than well-funded city schools, and seeing the results of their children improving their learning skills, is expressed by Feliza: "I have said that before we never had anything at school, but now new materials are arriving for our school and my daughter no longer wants to miss school, therefore I am very happy and I thank the friends, sponsors and Save the Children."
Interested in joining our community of sponsors? Click here to find out more.