Elena Morales, Basic Educator Program
Save the Children, Boliva
June 8, 2012 
My name is Elena Morales and I am an educator working in the "Wawakunawan Purina" program, which means "We Walk With the Childhood". This is a sponsorship-funded program implemented in the outskirts of Cochabamba, Bolivia.
I support the School of San Francisco, located in the neighborhood Villa Sebastian Pagador. This neighborhood has a high migrant population, most residents come from other cities in Bolivia. The school has 926 children, many of whom are sponsored through Save the Children.
The children are very happy when they find out they are going to have a friend abroad and many wait for their sponsor's letters with great anticipation.
One example is of a 12-year-old girl named America. This year she received a letter from her friend in the U.S. When she read the name of her new friend she shouted, "I have a friend in the United States!" The other children asked her why she was so excited. With pride she explained that her sponsor wrote a letter and that he knows her by her picture. This makes America feel special.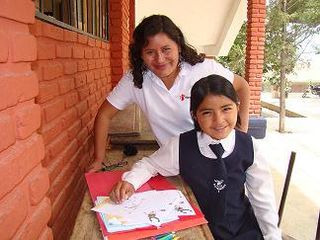 What fills me with such great satisfaction is that "Wawakunawan Purina" allows boys and girls to have the opportunity for a better education and integrated formation without any type of discrimination.
This is how Save the Children contributes to each child, community, and country: through the creation of capable citizens who can reach their goals in life.
Watch America and her friends jump rope
Interested in joining our community of sponsors? Click here to find out more.