Las Mesas, El Salvador
June 29, 2012
Not many tourists come to El Salvador.
This is not a surprise: our crime numbers are a potent deterrent for any foreigner who would like to know more about this country.
But there are some visitors who are not looking for "tourism" or to just have another check on their list. These are the committed child sponsors who wish to have more contact with the children who send them letters and pictures through Save the Children.
Not too long ago we had the pleasure of bringing Ms. Elizabeth to the field to visit the community of Las Mesas in the western part of El Salvador. While there, she was able to interact with community members and families living there.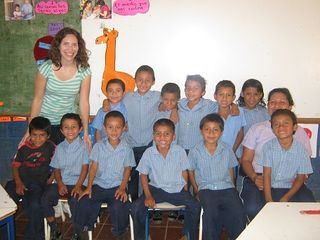 It is extremely difficult to explain what we do in the field through reports, brochures, or simple statistics, and the positive change that is being achieved. BUT, when real contact happens and all those reports turn into living faces and extraordinary stories, then the real development journey begins.
It is then that Ms. Elizabeth's nodding signal has a meaning; she has come to understand the effect of
sponsorship and how her contribution is changing the lives of children and their families in this part of the world. And for us, it is the signal we need so we can continue our work. This kind of satisfaction does not fit in a report. I share with you this experience as I see it in hopes that you will also feel this
satisfaction because your contribution really DOES make a difference…
Interested in joining our community of sponsors? Click here to find out more.