Dougoutigui Coulibaly, Save the Children Sponsorship field worker
May 31, 2012
Countless sponsors have told us over the years that one of the most rewarding aspects of being a sponsor is developing a personal connection with a child whose life is being changed by their generous support.
This is a shared sentiment, as children in Mali feel the same way. Ask them what they like most about sponsorship and many will mention the relationship that develops with their sponsors over the years.
They really love to learn about their sponsors. Letters provide them with a unique source of joy, pride and a feeling that somebody cares and values them. They particularly appreciate words of encouragement and praise for their school efforts. A couple of weeks ago, an eleven year-old girl told me, "encouragement from my sponsor always pushes me to do more in school".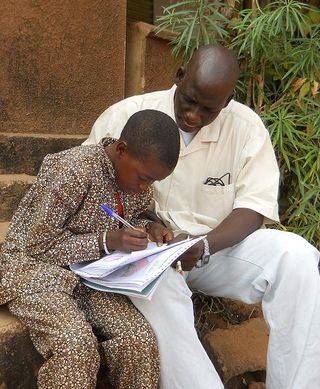 Many children do not believe their eyes when I visit their schools and homes with letters. Often I read to the younger ones; hearing me read their letters is a fun and rewarding moment for them. Our sponsors come from all walks of life and their messages reflect this. They write about their education, work, hobbies, families, pets and general advice on being a good citizen. As I read the letters I can see the children's feelings on their face, from broad smiles to laughter, to surprise and more.
In Mali, gratitude and reciprocity are an integral part of the social mores. Sponsored children want to be true to these values and return the kindness by replying to their sponsors. Often they are unsure what to write, but a few words of encouragement from parents or teachers are usually enough to egg them on to open up and enthusiastically share their own stories.
Like sponsors, children love talking about their families, friends, school and sports. More importantly, they like asking questions and are curious to know everything from food eaten in a sponsor's country to the type of bed they sleep in.
Interested in joining our community of sponsors? Click here to find out more.