The following first appeared on the Huffington Post.
_______________________
I am a lucky mom.
I received quality prenatal care and gave birth in a state-of-the-art hospital. My kids received essential nutrition from the moment they were born through their early years, giving them a better chance to fight off disease and perform well in school. Today, they are on a path to reaching their full potential.
Many moms in developing countries such as Ethiopia, Niger and India aren't so lucky.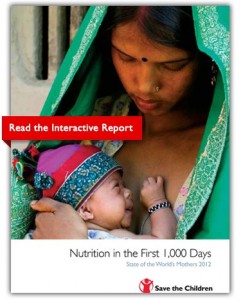 In fact, children in an alarming number of countries do not get the nutrition they need from pregnancy to their second birthday–the critical window for ensuring healthy growth and development–according to Save the Children's 13th annual State of the World's Mothers report. The report shines a spotlight on the lifelong, if not deadly, impact chronic malnutrition has on millions of children across the globe.