Mohamed Zanati, Education Officer
Assiut, Egypt
May 4, 2012
On the way to a small village located 30 miles north of Abnoub you can take the time to appreciate the beautiful scenery; the flowing Nile, fields of green and the mountains off in the distance.
This village, like many others in Upper Egypt, has suffered a lot and is deprived of many basic services. While right next to the Nile River, it only recently received clean water. There's no youth center for children to exercise and play sports and a local health unit was only recently opened (but is still waiting for equipment).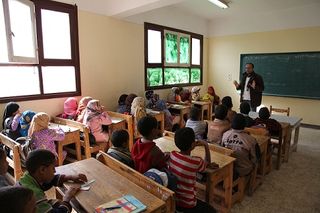 There is only one elementary school and no secondary school; the closest is in the neighboring village almost five kilometers away. Yes, this is how much people in Upper Egypt, especially children, are still in need.
In villages like this, Save the Children provides integrated programs for children to improve their health, education and economic opportunities.  Although there is still a long way to go, these programs, which you support, are saving lives and improving the quality of life for Egyptian children everyday.
My visit was to monitor the quality of activities of our local partner, Community Development Association. As soon as we arrived I could see the smiles creeping onto the face of the children, and with a signal from their teacher they began singing to us in welcome. I was extremely happy when I found the children in the first grade so happy in class and that they've managed to learn the alphabet.
It's the first time in this village's history that every school age child is enrolled; last year the figure was just 80%. The increase is a result of our strong partnerships and advocacy activities with partner CDA's, the Ministry of Education, the educational administration and the school's board of trustees.  
As an Egyptian and an employee of Save the Children I would like to thank all of the people who care enough to donate to these children in need.
Interested in joining our community of sponsors? Click here to find out more.