Junima Shakya, Nepal Sponsorship Manager
Kimichaur, Nepal
May 1, 2012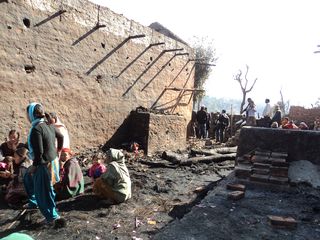 On the evening of January 27 a fire started in an animal shed in the village of Kimichaur, in the Pyuthan district in Western Nepal. The fire swept through the village, damaging 14 houses and leaving the villagers desperate for help. Fortunately, there was no loss of human life, but the fire destroyed homes, prized cattle and stored grains.
"My hard-earned money, 30,000 Nepali Rupees (about $380), inside my saving box was burnt to ashes," shared Chetman, a local villager.
The day after the fire, Save the Children, in coordination with its partner organization in Pyuthan, began providing relief for the affected families with rice and a blanket for each family.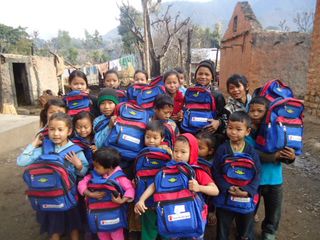 Twenty-seven children, including 15 sponsored children, were affected by the fire. "The children lost their books, bags and all their school supplies", reported Umesh, a Program Coordinator. We immediately dispatched new supplies. Each student received a new school uniform, school bag, notebooks and other stationery. We focused our relief efforts on the children as it is so important for them to feel safe and secure after such a traumatic experience.
"Support for the community was provided by several relief organizations. But the community was very happy that their children were prioritized with special support and materials," said Suraj Pakhin, a member of Save the Children staff in Nepal.
"My dress (school uniform), books and note books were all burnt in the fire. I thought 'I won't be able to go to school again.' But I got a new school dress, books and supplies and I can join the school once again", says a sixth grader .
Interested in joining our community of sponsors? Click here to find out more.