Alex Treyz, Manager, Global Sponsorship Operations
April 9, 2012 
Fortunately today the river is low. Out my window I see men and women wading in the knee-deep waters, steadily fording the river or hand-washing clothing by hand.  Children cross this river every day to reach their schools on the other side. During the rainy season, which begins in May, this river will rise and the swift current will render it impassable. I remember the ease of my bus ride to school when I was in elementary school and compare it to this journey across the river. Fortunately we're in a 4×4 vehicle and the river is low, but I ask myself, what if I had to make this journey on foot, during the rainy season? What if I had to wade across a river every day to get to school?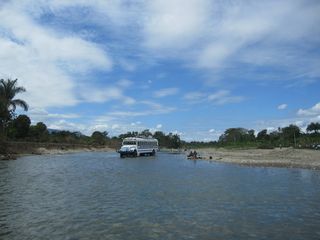 Our 4×4 bumps and splashes over the river bed and 20 yards later we are across the other side, one river river-crossing closer to Maissade. We will cross 5 rivers today on our journey from Port-au-Prince to Maissade, a town of 60,000 people nestled in Haiti's Central Plateau region, where Save the Children has been working to improve the lives of children and their families through Child Sponsorship for 27 years.We are way past the point when the pavement has ended and the dirt roads have begun. About an hour ago, three hours into our trip from Port-au-Prince, the number of vehicles dropped off; the primary modes of transportation we see now are foot, donkey, andthe occasional motorbike. As we arrive in Maissade, the river waters have dried off and our 4×4 vehicle is covered in a thick layer of chalky dust. I am rattled from the bumpy ride, but thrilled to be in Maissade, the area of our Sponsorship programs.
Every day, Save the Children staff ford these rivers and bump downthese dirt roadsto deliver letters to your Sponsored children. During the rainy season, our staff often leave their vehicles behind to swim across swiftly moving rivers, walking the rest of the journey to your Sponsored children in Maissade on foot. In their hands are your letters to your Sponsored children, sharing your generousgreetings and stories of your lifeto the children of Maissade. Your letters, birthday cards and greetings bring joy and curiosity to these children.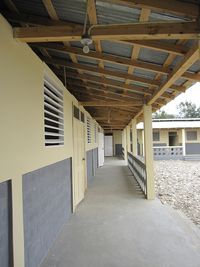 Our journey takes us to Céverine School, 20 minutes from the center of Maissade. On our way we pass homes painted in bright hues of Caribbean pink and green and children playing soccer in the dusty main square. The homes we pass have electricity for only eight hours a day, so when we pass through this way again tonight, it will be completely dark. We cross several smaller creeks to reach Céverine School, which Save the Children has been supporting since 2002. The school bustles with energy and productivity and I observe children paying apt attention in the beautifully built classrooms.The day is dry and hot and I am grateful for the shade the classrooms provide. Our team visits a class of 6th graders and asks the
students why it is important to learn how to read and write, to which one student replies, "For the future and for my country" and another replies, "To help the community – if I have knowledge, I will be able to share it with others." Thanks to the generosity of our Sponsors, these children have the opportunity to learn and growat this school and to one day become leaders in their community.
Later in the afternoon we visit the temporary location of CoeursUnis School, meaning "United Hearts." Save the Children is currently constructing a beautiful new schoolfor the children of this community, who in the meantimeare studying in the open air under a tree. The new school is due to be finished any day.When the rainy season comes, these children will find shelter and an environment conducive to learning in this school.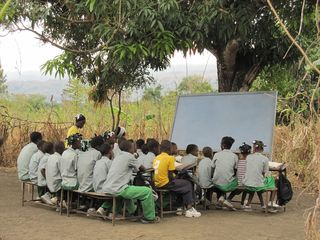 Our day in Maissade ends with goodbyes to children, teachers and parents and the crossing of one more river. I am heartened by what I have seen today in the schools Save the Children Sponsors support. Despite many challenges, these children are learning skills and knowledge every day that will help to build them a brighter future. All of this would not be possible without the dedicated support of our Sponsors.
Thank you for all that you do to support the children of Maissade, Haiti through your Sponsorship!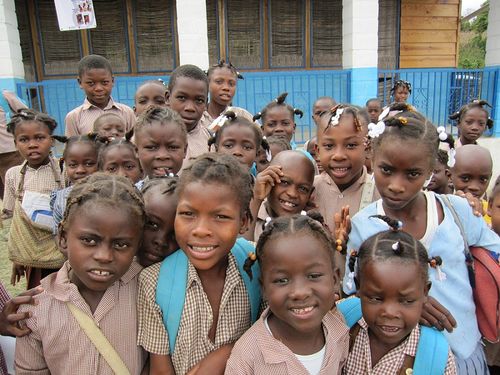 Interested in joining our community of sponsors? Click here to find out more.