Philippe Nia-An Thera, Early Childhood Coordinator
Bamako, Mali
March 1, 2012
Two years later, Boubacar is still playing with the drum. But as a first grader, there are plenty of new things he can do.
It's impossible not to remember Boubacar, a boy we met in Mali two years ago.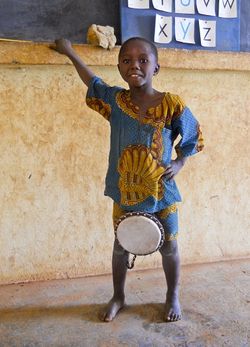 We heard him before we saw him. He was furiously tapping away on a drum strapped around his waist – transfixed in the discovery that his tiny hands could create sound and rhythm with an object he had never seen in his life.
At age four, he had just started attending preschool at a Save the Children-supported early learning center in the village of Ifola. This center is one of 40 supported by Save the Children in the Sikasso and Yorosso Districts of Mali.
Before coming to the center, he spent his days at home in this impoverished village. With no access to toys, he created things out of mud.
That changed after his mother, Haby Sanago, decided to send him to the preschool. There, Boubacar discovered not just his beloved drum, but a whole new world of playing and learning.
Boubacar is applying what he has learned in his early years to where he is now: first grade in primary school. He is continuing to learn how to read, write and draw. "A happy student who participates in class," his teacher says.
He is an active child, often seen playing soccer in the school yard, and still "visits the early learning center where he can play with the drums," says Philippe Nia-an Thera, Save the Children's early childhood development coordinator in Mali.
Haby, who never went to school, is delighted and grateful. She says, "The change I saw in my child shows how much Save the Children's early learning program benefits the children."
"I do not miss any occasion to discuss with the other women in the village what it has done for my child. I tell them that as soon as my daughter, Tjimono, reaches the age of three, I will also send her to the early learning center," she adds. "If it were up to me, all the children in this village would go there so they can start learning early."
Today, we can still hear Boubacar tapping away on that drum. What we don't hear is the sound of the step he takes every day as a first grader in Ifola – the quiet sound of progress that can take him farther than his parents have ever gone.