Andrea Williamson-Hughes; Deputy Director, Office of the President
Gare Arera, Ethiopia
December 20, 2011
The school constructed by Save the Children in Gare Arera came into view as we rounded the last turn of a bone-rattling, 45-minute drive over a rocky road that was more path than anything. That anyone lives so far from the paved road, let alone goes to school there, seems nothing short of amazing. Yet the sight of children peering out the school's windows assured us that something was happening.
Save the Children has worked in the West Showa District of Ethiopia, where Gare Arera is located, since 2009. Today, several hundred children attend the school constructed with sponsorship dollars. Classes ranging from Preschool (Early Childhood Development programs) to Grade 4 are taught in two shifts to allow maximum use of classroom space. Working in close collaboration with the Ethiopian Government, Save the Children helps with curriculum enhancement and training, to help instructors convey important health, sanitation and nutrition practices and to impart basic, but effective, teaching methods.
I couldn't help but smile during our classroom visits. Eager youngsters anxious to demonstrate their knowledge filled rooms adorned with colorful learning materials, many of them locally made. Questions about their lessons revealed their grasp of the health, sanitation and education messages that Save the Children-trained teachers impart.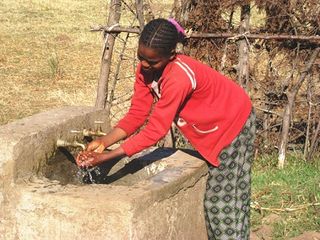 Nearby latrines and clean-water sources – constructed by the community under the guidance of Save the Children – are further indication of the positive changes brought to Gare Arera by sponsors' contributions. A school garden on the premises that puts my own vegetable patch to shame provides a means of income generation through the sale of produce for the school, as well as nutritious food for children to take home and seeds for home-garden sowing.
The comments of school PTA members, most of them parents themselves, further demonstrated that Save the Children greatly impacts the community. "Thanks to Save the Children, our children are learning important lessons – lessons they bring home to us about healthy living," said one father. Parents in Gare Arera now value their children's education to the extent that the PTA plans to enhance educational opportunities by raising funds for additional classrooms to house upper grades. Currently, children who want to go to school beyond fourth grade must walk a long distance and ford a river that becomes dangerous in the rainy season. This deters many children, especially girls, from going on to upper grades.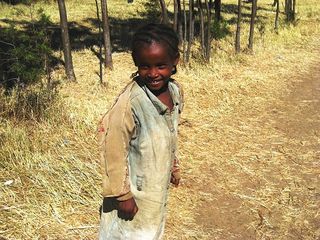 It was recess time as we prepared to depart and classrooms emptied into the open playfield. Rather than caring for younger siblings or working in the fields, these bubbly children were spending their day as children deserve – with exposure to knowledge and practices that will help them live healthier, more fulfilling lives.
As our vehicle began winding its way back down the bumpy road toward the nearby town of Ambo, I looked back at the many small hands waving us off. How often does one have the opportunity to see real change taking place? It's a rare occurrence but because of caring sponsors that want to make a difference for children in Ethiopia, I knew I had just witnessed change in action.
Interested in joining our community of sponsors? Click here to find out more