Dr. Tererai Trent, PHD , Educator and Humanitarian   
Hurungwe District, Zimbabwe
October 13, 2011
 The Matau Primary School is part of a Save the Children project funded through The Oprah Winfrey Foundation to honor Tererai, whose story of tenacity, courage and spirit inspired Oprah and millions of fans around the world. The donation to the Matau Primary School project was announced on May 20, 2011, during one of the final "Oprah" show episodes. Learn more here: SavetheChildren.org/Oprah 
Good Morning. My dear friends and family of Matau and our local officials, I am so delighted to be home. I return to Zimbabwe after an unlikely journey that began asa small girl with a big dream of getting an education.
Let me take you back to that time. You see, then as now, many men from our village traveled to Harare to work as commercial farmers and to South Africa to work in the mines. They would be gone for months at a time, and would write letters to their wives back home. But, these women – many of your mothers and grandmothers – had not been to school, and when the letters arrived each month, they could not read them. 
They would take their cherished letters house-to-house, seeking a child or adult who could read their letters, and only after the letters had been read by several people, several times, were they satisfied that the content of the letters were true.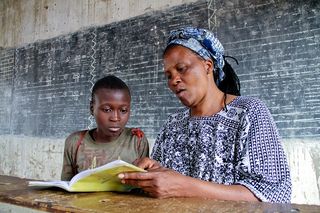 Dr. Tererai Trent reads with 10-year-old Beauty, grade 4 student at Matau Primary School  
(Photo Credit: Tsvangirayi Mukwazhi/Save the Children)
It broke my heart that these women could not read the most intimate conversations with their husbands, and this experience rooted in me a deep desire to learn. 
Since then, our community and our nation have traveled far.  Today, all Zimbabwean children have the right to go to school.  We are on a path to progress, and we can't go back.  But, we have not yet reached our journey's end.  And now, Oprah Winfrey has helped to redefine our destiny.
It is a change in destiny for our children here, in one of the most remote areas of this planet.  We are not unlike other rural villages in Zimbabwe or in Africa. Far from the city, we have more cattle than cars, and more lions than illuminations.  But, through the generosity of the Oprah Winfrey Foundation, a light now beams brightly on Matau and our neighboring villages.  For today, when people hear the word "Matau,"they do not see the shadows of poverty;they see the brightness of hope.  We have been given a great gift, and it is our responsibility to embrace it and be a shining example for all of Zimbabwe and all of Africa.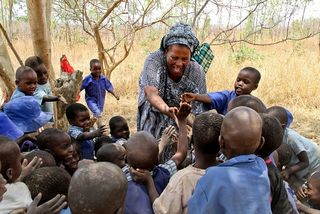 Dr Tererai Trent shares a light moment with children from Matau Primary School
(Photo Credit: Tsvangirayi Mukwazhi/Save the Children)
But let me be clear on one point, this is the Matau Primary School project.  This is not the Tererai Trent school project.  This is not the Oprah Winfrey school project.  This is our project.  Yours and mine, working together with our partner, Save the Children. 
And, it is in that spirit of togetherness that our children will achieve greatness, whether they live their lives here in Matau, in Zimbabwe or venture to new lands.   For, as a very wise woman, my own mother, once told me, education is the only gateway out of poverty. 
What will we do together?
First, we're going to build a new school with new latrines, new teachers' houses and an administrative building so that children can have a safe place to learn. 
But we know that school buildings do not teach children, teachers do.  Teachers like our own beloved Mr. Gwaradzimba. 
In honor of him and others, we're going to train our dedicated teachers and give them the skills to make them even better teachers.
We're going to give our youngsters an early boost on learning, when their bodies and brains are growing rapidly, so that they will enter school prepared and ready to succeed. 
We're going to help our children learn how to read by getting all of you involved in activities like reading days where we will devote an entire day to celebrate reading in our community, or reading buddies, where we will pair older students with younger students to mentor them. 
Now, some of you may be saying, Tererai, I do not know how to read or write, so I do not think I can help.  And to you, I say, there is a way.  Your worth may not be measured in the words you can read but it can certainly be measured in the words you can speak.
Ours is a culture rich with oral story telling.  Share our stories with young children.  It will pique their interest, and they will ask questions and want to learn more.  Ask your children what they have learned in school that day.  Show them your knowledge. 
For knowledge is power.  There is a common African saying that many of you may recognize.  "It takes two hands to crush a head lice."  And, the same can be said for illiteracy.  It will take both hands – all of us, together – to crush it out and build a home of knowledge for our children.  You see, we are not just building a schooltogether, we are building a better future for our children and future generations.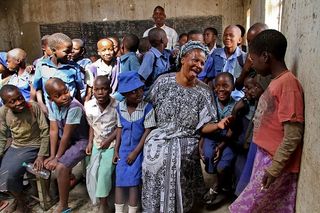 Dr Tererai Trent shares a light moment with children from Matau Primary School
(Photo Credit: Tsvangirayi Mukwazhi/Save the Children)
So I close my remarks today with a special message for all of you:
To our government leaders, without you, we cannot achieve much.  Please recognize the importance of education and an early childhood development curriculum that benefits children.
To our community, be the light and example of how we can build something together.  We want people in Zimbabwe to say, "We want to be like Matau." You have already taken that first step, by making more than 450,000 bricks for the Matau School buildings.  What an unbelievable and proud accomplishment!
To our teachers, I appreciate the role you've played in creating a learning environment for our children that help them realize their potential.  With more training, you'll be even more effective.  You are the house of this community.
To our parents, encourage your children to realize their dream of being educated.  By building our home of knowledge here, our children will stay and become our teachers, our doctors, our leaders.
And, most importantly, to our children, ask questions.  Be curious.  Listen to your teacher.  Remember, many of your parents and grandparents cannot read and write.  They grew up in severe poverty without schooling. Will you choose the same route?  Or, will you take a different track and show the next generation what is possible.  And, even more importantly, what is achievable.
For we may be poor in material goods, but we will be rich in knowledge.
Tinogona! Tinogona! Tinogona!
It is achievable.
Thank you