Jen Kaleba, Director, Marketing and Communications
September 9, 2011
Westport, CT
On September 11, 2001, Donna Fowler was running her own in-home daycare in a suburb of Washington, D.C. In her care were eight children, several of whom had parents working at the Pentagon and on Capitol Hill. While children were playing, Donna answered the persistent ringing of her phone.
"Turn on the TV," her friend gasped.
And like millions of Americans, Donna watched as the second plane hit the World Trade Center.
She turned off the TV quickly, put on a composed face for the children, and turned the radio on in the background so she could keep tabs on the situation without alarming the kids.
And then a plane struck the Pentagon. Close to home and where one parent worked.
"I thought, oh my god, I have these eight little people in my care and what am I going to do with them if their parents don't come back today?" Donna remembers. "I had absolutely no plans in place. They were talking about evacuation and I thought, 'Where do I go? How would parents know where I was going?' The feeling inside was of total dread not knowing if parents were going to come back and what I would do if they did not."
The thing is, if you'd asked Donna the day before 9/11, she would have told you she thought she was prepared for an emergency.
"I knew that I had emergency numbers for children and I knew where their parents worked. I felt very comfortable up until that point," she recalls. Then, reflecting on the irony, "I didn't realize how unprepared I really was; how prepared I should have been."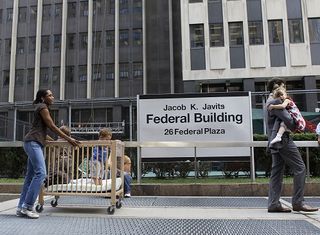 Children are evacuated from a daycare outside the Javits Center in New York after the August 23, 2011 earthquake.    (AP Photo/Mary Altaffer)
Not only did Donna not have an adequate plan, but across the country, states didn't require the plans in the first place. Today, those very requirements are outlined in Save the Children's just-released fourth annual National Report Card on Protecting Children During Disasters.
In it, we look at all 50 states and the District of Columbia to see what states have adopted four very basic standards of preparedness for kids in child care and schools—basics like evacuation and relocation plans, or plans to reunite kids with their families. Today, only 17 states meet all four requirements.
You can read about the standards here, check out how your state stacks up, and download our "School & Child Care Check List" that you can take to your kid's caregivers or school administrators and ask, "Do you have a plan?"
As for Donna, her life changed on 9/11. After the children were reunited with their families (the father who was supposed to be at the Pentagon forgot some papers at his house and was late to work; it took the mother on Capitol Hill 20 hours to get back to her daughter) Donna swore to herself that she would never let another child care worker feel the way she felt that day.
She became a staunch advocate for disaster preparedness for child care facilities, testifying before the Maryland legislature on behalf of Save the Children to get our standards passed. Today she is the Vice President of the National Association for Family Child Care, pushing for Maryland to go even further in its readiness to keep kids safe during disasters.
More than 67 million children spend approximately 2,000 hours in schools and child care every year. Let's work together, with people like Donna and you, to make sure more states get an A+ next year.