Ali Hochreiter Operations Specialist, Domestic Emergencies Unit, Save the Children USA   
Joplin, Missouri
June 7, 2011
If it had been 6:02 p.m., on a weekday rather than Sunday evening when the Joplin tornado hit, most of the 94 children who attend Creative Kids Academy would have been in the classrooms, waiting on their parents to pick them up. By 6:30 that night, the two buildings and playground that made up Courtney Grover's child care business were nothing but rubble, one more pile of wood and twisted metal in a seven-mile stretch of destruction that left one lot indistinguishable from the next.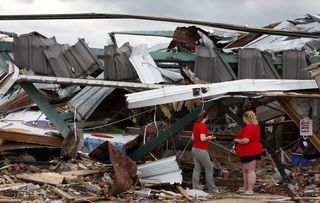 Ali Hochreiter (left) of Save the Children speaks with owner Courtney Grover of Creative Kids Daycare Center that was destroyed in Joplin, Missouri. Photo by Bruce Stidham
I'd arrived in Joplin with the goal of assessing needs for families, equipped with names of nine child care centers that served more than 400 children and had reportedly been severely damaged. It was immediately clear that my list of addresses was almost worthless since streets were barely visible, and there were no signs to direct me anyway. I had my nose buried in my blackberry, following a dot on the digital map in the hopes it would pinpoint me in one of the blocks when I realized I was standing in a pile of children's toys: an oversized ladybug, plastic building blocks, a brightly colored gate. As far as I could see in all directions, it was more of the same — piles of wood, eerily faceless homes open like dollhouses, clothing quietly swinging in the closet, beds hanging off the second story; a kitchen standing in the middle of a ripped-open house, cabinet doors gone but breakfast cereal lined up neatly on the shelves.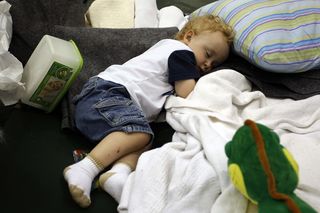 2-year-old Braden of Joplin, Missouri sleeps in a Red Cross shelter after the May 22nd tornado destroted his home. Braden and his grandmother survived by staying in their basment during the F-5 tornado. Photo: Bruce E Stidham
Although I'd seen disaster sites before, I was struck by how complete the destruction was within the path of the storm, and how alarmingly clean the edges were, with one house gone and the next one over suffering only minor damage.  I could not imagine how anyone had survived a direct hit and what the aftermath of the tornado must have been like as people dug themselves out and tried to account for neighbors. One family of three staying at the shelter survived by huddling in the bathtub as the house blew away around them, the parents shielding their little girl. They told me she'd been having trouble sleeping ever since.  Standing in the ruins of a child care center that was so fortunately empty when the tornado struck, I had to stop myself from thinking about what might have happened there on another night, and could only hope rebuilding efforts will take into account the mitigation and safety standards that will protect lives in the future.
__________________
Support our U.S. Emergencies Fund to help keep children in America safe and strong before, during and after emergencies.