Sophie Hamandishe, Communications Officer, Save the Children Zimbabwe
Monday, May 16, 2011
Mbire District, Zimbabwe
Most American school children think it's a hassle just waking up early for the morning school bus. But that is nothing compared to the "hassles" for children setting out to school in northern Zimbabwe.
Out by the Angwa River in the northern part of Zimbabwe, children trekking to and from school daily must cross these crocodile-infested waters. You can imagine how much these children want to go to school to take such risks.
One such kid is 12-year-old Hardlife Kawara. Last year, on his way home from school, he and some friends were washing in the river when a crocodile attacked him. He told me his friends got scared and ran away. But his brave brother grabbed his waist and held on tight while the crocodile took a tighter hold of Hardlife's leg and tried to pull him under the water. After a long struggle, the crocodile let go, but it took part of Hardlife's leg off.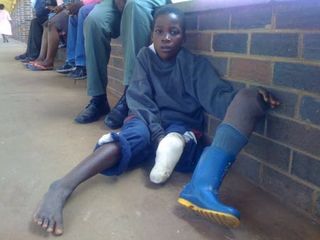 Hardlife, 12, after his crocodile attack with his prosthetic leg.
Photo Credit: Sophie Hamandishe
With orthopedic care and a prosthetic leg provided through Save the Children's support, Hardlife is back on his feet and in good spirits despite his incredible ordeal. I am so inspired to see his determination. And, what is even more amazing is that after getting care, he returned home intent on going back to school. In the first three months of 2011 alone, seven children in this area were attacked by crocodiles.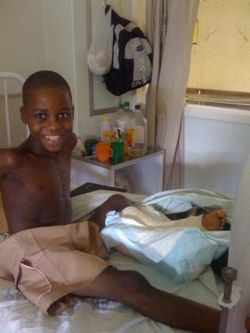 Prosper, 8, another victim of a crocodile attack, is eager to return to school.
Photo Credit: Sophie Hamandishe
A sturdy foot bridge would help keep these children safe, but it is costs money that the community currently does not have. (A foot bridge would also allow kids to cross the river during the six months of the year that it floods.)
Local officials and education authorities are doing their best to come up with a solution. One idea is to build a new primary school in Komba village on the other side of the river so children don't have to wade through the water. But until money can be raised for a new school, children will continue to face the river's dangers.
In the meantime, Save the Children is holding workshops in the community to teach children how to protect themselves and avoid crocodile and lion attacks. I'll save the lion stories for another day.