Ishinomaki, Japan
Friday, March 18, 2011
Karen, age 6, huddles together with her family in a classroom at a primary school in Ishinomaki, Japan. They have only a few blankets and a small kerosene stove for warmth. "We have been here since Friday. It's cold and I want a bath," says Karen.
Karen's father, Koichi, explained that the family took shelter in the classroom when the tsunami destroyed their home. "The whole house is a mess. All dishes are broken. Everything around the house is flooded."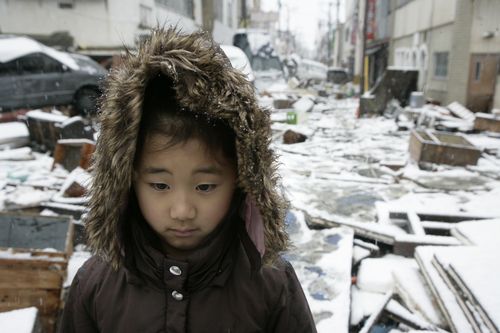 Photo by Jensen Walker/Getty Images for Save the Children
Karen has not seen her house since the tsunami. Her mother says, "I don't want to show my children what has happened to our home. I am afraid of how they might feel."
All Karen wants is a chance to go home and see her friends again. "I miss my home and I miss my friends, she says. Her brother, Asato, age 8, also wants to go home. "I want to play my games, but maybe I won't be able to anymore," he says with a sigh.
Koichi and his wife Rumi find it difficult to keep their children occupied all day long in the small classroom, so they sometimes venture outside for a walk. "We have to get out of the classroom, but it is very cold outside and it is snowing a lot."
_______________________
Learn more about our recovery response to the earthquake in Japan.
Help Us Respond to the Japan Earthquake Recovery. Please Donate Now.