Faris Kasim, Pakistan Senior Communications Coordinator, Save the Children
Islamabad, Pakistan
Friday, January 28, 2011
Six months since the floods struck Pakistan, Save the Children's relief work has reached the most remote and distant corners of the affected areas. From the cold, mountainous hamlets of northern Swat to the devastated plains of Dadu in Sindh, our teams are working diligently to assist people across the length and breadth of the world's sixth most populous country. More than 2.6 million men, women and children have benefitted since August 2010 from our work. Last week, I had the opportunity to travel to one of the worst affected places in Pakistan, district Rajanpur in south Punjab.
Rajanpur is a narrow, 20 kilometers wide strip of land sandwiched between the Indus River on the East and the Sulaiman Mountain range on the West. Monsoon floods occur almost every year in Rajanpur, but in 2010 the scale and impact was much more severe. The local people were not prepared at all. In August last year, floods struck the district from both sides – banks of the Indus bursting on the east and hill torrents from the west – inundating 33 out of the 44 union councils in the district.
Overnight, a vast majority of the population in Rajanpur found themselves engulfed on all sides by an unending expanse of water, five to ten feet high. Currently, Save the Children is the only organization providing wide scale humanitarian assistance in Rajanpur. In an area called Bosangang, Save the Children's mobile health teams have walked for several kilometers in knee deep floodwaters to provide people with basic healthcare services. I was visiting temporary schools built in places where public schools were completely destroyed.
As the 'Psychological Assessment' of flood affected children, conducted by Save the Children reveals, I realized how many students were facing several child protection issues, especially behavioral and psychological problems. Of all the children I met during the visit, I distinctly remember 9-year-old Jamshed at the government boys' primary school in village Shahnawaz. Like other children in the school, he was busy writing Urdu from the blackboard but unlike others he seemed oblivious when one student began reciting a poem in front of the class. I walked towards him and asked him his name. I received no response. I foolishly asked louder and learned the reason for his indifference from the teacher.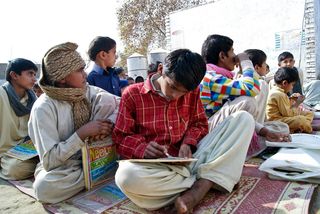 Jamshed, along with two older siblings, is deaf. His father is a poor farmer who cannot afford special education for his children. Jamshed has been attending the primary school for two years and even without any hearing abilities, has learned how to write alphabets, grasp the meaning of basic words and make simple sentences.
The floods had submerged his village in six feet of water and displaced the people two kilometers away to a higher and safer ground. Jamshed stayed on this small patch of dry land with his family for over forty days, cut off from the rest of the world. With nowhere else to go, his family depended on helicopters and boats to provide food and drinking water. After the floodwater receded, Jamshed's home suffered minor damages however the classrooms of his school were destroyed, furniture ruined and the teachers unable to reach the school due to destruction of the roads.
Jamshed's cousin was incidentally near the school and helped me communicate with him using sign language. I was surprised to learn that Jamshed is a natural artist; he had made a television, cell-phone, bull cart and books from clay while his notebook was full of beautiful rural landscapes. He wishes to study till 12th grade and become an artist when he grows up. However, his cousin mentioned that since the floods Jamshed has become more shy and expressionless. He hesitates going to the nearby town of Kotla for errands with his father and is terrified whenever he hears about rain. Save the Children's Child Protection team has also set up a Child Friendly Space in the vicinity of the school in village Shahnawaz. Specific psychosocial support is being provided to flood affected children at the CFS and identified child protection cases are also referred to service providers in the district.
Jamshed was very pleased to show me the handmade models of electronic items he had made. Like any other 9-year-old, he smiled at every question I asked, interpreted by his cousin and replied fervently with calculated hand gestures.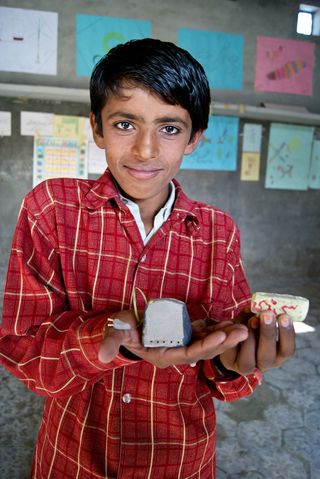 I thought about all the hard work Save the Children has done in Rajanpur since the floods: dispensing huge amounts of aid, distributing tons of relief goods and putting in thousands of man hours. We work in areas that have been neglected for decades. Education is rare and seldom do families escape the harsh cycle of poverty and deprivation. Our effort to educate one such poor child to gain even primary level education makes it all worthwhile. Like Jamshed's cousin said, 'If education is promoted here, there is still hope for children like Jamshed.'
___________________
Learn more about our emergency response to the flooding in Pakistan 
 Help Us Respond to the Pakistan Flood Emergency. Please Donate Now.