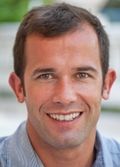 Paul Neale, Program Manager for Safer Construction and Disaster Risk Reduction in Port-au-Prince, Save the Children
Port-au-Prince, Haiti
Wednesday, January 12, 2011
I have been in Haiti since the end of January 2010 working as the Program Manager for Safer Construction and Disaster Risk Reduction in Port-au-Prince. I came out here with another international NGO as a shelter coordinator, but after their initial distribution of emergency shelter they switched focus to WASH – NGO parlance for water and sanitation health – and job creation for people affected by the earthquake.
So, I joined Save the Children at the end of April – the children's charity I worked for in Aceh, Indonesia following the Indian Ocean tsunami in 2004/5.
Our safer construction team in Haiti's capital Port-au-Prince consists of six engineers, an assistant and me. Since April we have been strengthening temporary schools, building child friendly spaces and health clinics. Recently our focus has been on constructing cholera treatment units – CTUs.
In total we have built four CTUs in partnership with Save the Children's health and WASH teams. It is my first experience of working in a cholera epidemic, which has so far claimed the lives of 3,600 people in Haiti.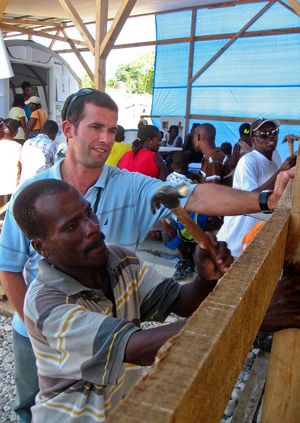 Paul works alongside a camp resident to construct the cholera treatment unit in Gaston Magron
Photo Credit: Megan Savage
But what surprised me most is how incredibly easy it is to prevent and treat cholera – simple rehydration solutions will reverse the devastating effects of cholera on the body within one to three days. Obviously the earlier someone gets access to rehydration treatment the quicker they can make a full and speedy recovery.
I remember the first cholera case we had at our cholera treatment unit based at a place called Gaston Margron, where approximately 6,000 people are living in tent camps. It was a nine-year old boy. He was very sick when he arrived, but the next day he sat up looking for something to do – healthy again with the aid of an IV drip and rehydration!
In Haiti safer construction was originally simply called reconstruction. But we wanted to emphasise that Haiti had to build back safer and better. Already we are planning to build ten transitional schools in Port-au-Prince as well as more in Leogane and Jacmel. We hope these schools will act as a model of safer construction methodologies that will be replicated in shelters and other construction projects in the neighbouring communities.
I'm also involved in managing the final stages of a tender process to appoint a local building contractor to construct schools in all three locations. It has taken time to get to this stage since we had to get our school design approved by the Haitian Ministry of Education. I am looking forward to getting contractors finalised and the start of school construction. It has been an arduous process, and I feel very sorry for the children studying in tent schools.
We also have to ensure the school authorities own the land where we plan to build – a crucial factor since we don't want to end up in the awful predicament of having to tear down a school because of contested land ownership. And that's a potential problem here in Haiti since pre-earthquake many of the schools were on rented land.
There are other problems too. There is limited capacity and skills for construction in Haiti. So, whilst we are completing construction projects we have to build the capacity of local tradesman, and monitor their progress carefully to ensure the highest possible building standards.
Port-au-Prince is not a large city, but because of poor road conditions and traffic it can take at least two hours to get to some of our sites. This limits what is possible to achieve each day. Also, most quality construction materials like timber have to be imported from places like the Dominican Republic, which takes time to arrive in country and clear customs. As a result of the cholera outbreak as well as election violence late last year it has been difficult to undertake 'normal' activities.
Before signing off I must mention how amazed I am by the resilience and good humour of the Haitian people. They have been through so much in the last year, and yet they always have time and a smile for you. They deserve a break and some luck in 2011.
_____________
Learn more about our recovery response to the earthquake in Haiti.
Help Us Respond to the Haiti Earthquake Recovery. Please Donate Now.