Eileen Burke, Save the Children, Director of Media & Communications
Westport, CT

Wednesday, December 22, 2010
This post originally appeared on the Healthy Newborn Network. 
 ____
I read this week that the Associated Press named 88-year-old Betty White 2010 Entertainer of the Year, another honor to add to her long list of accolades as chief comedian. Approaching her ninth decade of life, the beloved Betty shows no signs of slowing down.
I was reminded of a similarly spry octogenarian whom I met in September 2009 during a visit to Save the Children's health programs in Ekwendeni District in Malawi. Faida Simeza, age 89 (according to voter registration records in her possession), decided late in life to take on a new role as caretaker to moms and newborn babies in her village. It all began one day four years prior when a health worker came to her village to enlist grandmothers and grandfathers (known locally as agogos) in a new training program to help mothers and babies survive pregnancy and childbirth. "I had lived here long enough and had seen so many problems with mothers and newborns. I decided I had to go and find out more," she told me.
Through the program, agogos are trained to counsel mothers through home visits on proper care during pregnancy and before and after childbirth. They also learn how to alter cultural practices that may be carried out with good intentions but are harmful. Sitting on straw mats under a canopy of trees, Faida and a group of agogos shared some of the changes they had made since the training. "Don't feed ashes to a woman to speed up labor." "Don't apply rat feces to a child's cord." and "Don't place a newborn baby on a banana leaf on the ground – he will get hypothermia."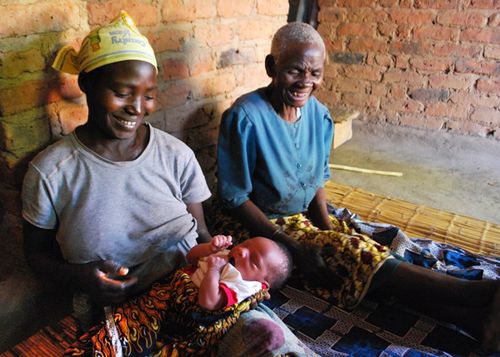 In her role as an agogo, Faida (above) visits Lucy and her one-day-old baby at home.
Faida, though illiterate, works with the local public health officer to meticulously record her visits with women and babies in a book that is kept by the village chief. Since she finished her training, she has helped with the delivery and care of 10 healthy newborn babies in her village.
She will never get Hollywood awards for her role as an "agogo" in her village. But for Faida, walking around her village and seeing babies alive today because of her training is reward enough.
_______
Eileen Burke visited Ekwendeni last year to help film the Living Proof Agogo Video. Read the recent report on the Ekwendeni Agogo Approach, which includes the training manual and qualitative assessment report.