Jessica Harris
Media Relations Intern, Save the Children
Washington, D.C.

Monday, November 15, 2010
If you're like me, you have had pneumonia before. At some point you felt ill, went to the doctor's, took your medicine, and moved on. Unfortunately, children across the globe are dying from this highly preventable disease every day.
Every year, a total of 1.5 million children die from pneumonia. That's one child every 20 seconds.
As I stood outside Union Station this morning passing out buttons and flyers to raise awareness for World Pneumonia Day, I realized one thing; not a single person I talked to could identify the number one killer of children.
To help draw attention to this little-known killer, the Kaiser Foundation hosted a panel discussion today featuring Cokie Roberts of NPR, Dr. Ezekiel Emanuel of the Obama Administration, Dr. Orin Levine of John's Hopkins Bloomberg School of Public Health, Dr. Salim Sadruddin of Save the Children, and Shannon Duffy Peterson, parent advocate.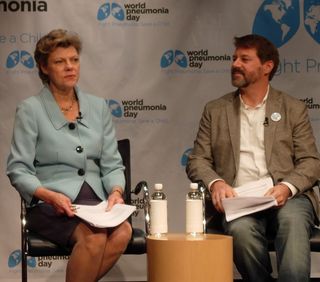 Cokie Roberts of NPR and Dr. Orin Levine of John's Hopkins Bloomberg School of Public Health discuss issues surrounding World Pneumonia Day.
There was not a dry eye in the room as Mrs. Duffy Peterson described how her daughter Abigail fell ill and later passed away after contracting pneumonia. It only took 72 hours. She was just two weeks shy of her sixth birthday.
The message today was clear. We need to get our children vaccinated, provide access to antibiotics to rural families in underdeveloped countries, and help parents to recognize the symptoms of pneumonia before it is too late.
For less than one dollar, life saving antibiotics can be administered to a child who might otherwise die from pneumonia. As Dr. Levine said during the discussion this morning, "Pneumonia is the biggest solvable problem in global health."
As I sat there calculating the number of children would die during the panel discussion, this quote struck me as more than just a statement; it is a call to action