Jessica Harris
Media Relations Intern, Save the Children
Washington, D.C.

Thursday, October 7, 2010
Dr. Pamela Young's message was heard loud and clear Wednesday morning at the "Water, Sanitation and Hygiene for Schools in the Developing World" briefing on Capitol Hill, moderated by Save the Children's Seung Lee, head of our global school health and nutrition programs. If the issue at hand is affecting children, get the children involved.     
Dr. Young, the PLAN representative, spoke this morning about water and hygiene programs in developing countries, primarily in schools.     
PLAN, Catholic Relief Services, Save the Children, and many other groups are working across the globe to teach basic hygiene practices, provide clean water, and install latrines, for the students to use and to boost school enrollment.     
"The key challenges boil down to two things", said Dr. Dennis Warner of Catholic Relief Services. "The first is getting the children into school.  The second is keeping them there." He added that by improving sanitation, which in turn improves the health and well-being of children, more students will be able to attend school on a regular basis. 
Watch our "Dirty Words" video to find out how Save the Children improved sanitation conditions in Nepal    
Three high school students from H.B. Woodlawn Secondary Program in Arlington, Va., highlighted the need to improve conditions for children in developing countries. These high school juniors, along with other members of their class, are involved with H2O for LIFE, which stands for Help 2 Others, a school-to-school program that was founded by a group of teachers in Minnesota.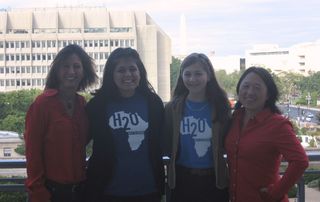 Cecilia Allen, Delaney Steffan, Mary Shields of H.B. Woodlawn High School, and Seung Lee of Save the Children pose outside of the briefing room with the Washington Monument in the background.
The group's mission is to make a difference; their plan is to take it one step at a time. Mary Shields, one of the students, emphasized this when she said "anything you do is at least something." This fact, often lost in the theory that one person cannot create change, is vital to the cause. Every little bit helps.    
On a side note, this was my first Capitol Hill briefing and I have to say I was impressed with the attitude these students had about helping others. For people that age to focus on saving lives in countries they have never even visited is a testament to their understanding that they are citizens of a global community.      
I look forward to attending more briefings and am honored to be a part of Save the Children…at least until December!