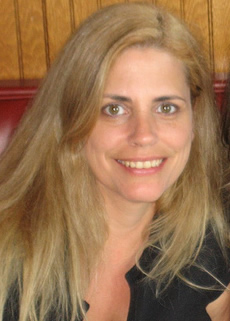 Cindy LaBlanc, Save the Children, Senior Specialist, Internet Marketing and Communications

Westport, CT

Friday, October 22, 2010
I've been told I have the "dream" job. I manage the social media for a cool organization that does amazing things to help children all over the world, including the US. Well, this month was no exception to living an exciting life while doing good.
I was invited to attend and do "live" social updates at a star-studded Bingo Night Haiti benefit in Hollywood right on the famous CBS studio lot.
The goal was to raise $100,000 to build a new Save the Children-supported school in Haiti. The school will have six classrooms and Save the Children will ensure it has skilled teachers and quality teaching materials so the children can learn and have a better future. Save the Children has served the needs of some of Haiti's poorest children and families since 1978, including their Haiti emergency response after the earthquake in January 2010.
As I arrived at the Bingo Night event, I turned the corner onto New York Street (a full-scale "street set" within the CBS lot) and was struck with the breathtaking scene that stood before me; glittering garlands of white lights criss-crossed the street, along with bright red table coverings & gleaming white patio chairs. As I admired the scene I noticed that the guests were rapidly showing up.
Equipped with an iPhone and a back-up digital camera, I proceeded to seek out some of the prominent guests and other stars in order to share with Save the Children's Facebook & Twitter followers so that they too could feel a part of the evening.
As the guests arrived, they soon drifted over to the "silent" auction tables to see what interesting items were donated and up for auction. Auction items included guitars from Melissa Etheridge and Maroon 5, fabulous destination rentals and beauty treatments, among other fun things.
I introduced myself to many of the celebrity guests and asked if I could take their photos and share them with Save the Children's followers on Twitter and Facebook. They were delighted to help and graciously stood steady while I snapped a photo with my iPhone. They hoped that by sharing the evening with our followers (and their friends) that it could help bring awareness to the needs of the children in Haiti and would encourage others to help, as well.
As I spoke with Garcelle Beauvais (NYPD Blue and The Jamie Foxx Show), she mentioned that this benefit to build a school was close to her heart because she was born in Haiti and feels a special kinship with helping children have a chance at a better future.
Another amazing star that I met was Kevin McKidd (Grey's Anatomy). Besides being one of the nicest guys you could meet, he has already done so much to help Haiti's children. Recently, Kevin partnered with Save the Children to do celebrity auctions on eBay Giving Works. In very little time, he exceeded his goal of raising over $5,500 to help children in Haiti; and he is committed to continuing his efforts in other ways. Stay tuned…
As I was snapping a photo of Fred Savage (Wonder Years), the Bingo caller announced that the first round of Bingo was about to begin. Everyone, including Fred, sprinted to the tables to start their first game. With the dazzling Bingo board lit up, the numbered balls started to bounce.
"Bingo!" was yelled out and people jumped up and claimed victory. Who knew the game could be so exciting. This was not my mom's bingo, for sure! Glancing around I saw many celebrities and prominent guests including Matthew Perry, Kelli Bellows, Kevin McKidd, Hank Azaria, Rebecca McFarland and Anthony Lapaglia, smiling and laughing as they marked their numbers while exchanging banter amongst their table.
Next, came an auction led by the lively and vivacious Nicole Sullivan (MADtv and The King of Queens). Proceeds from this auction also went towards the new school in Haiti.
As the balmy, star-filled night came to an end, people slowly made their way out with smiles on their faces and a look of satisfaction that they were a part of helping children in Haiti get a new school and the chance for a better future.
I felt honored to be able to share this special evening with our fans and followers with the hope that they will continue the efforts of sharing, spreading awareness and helping the children in Haiti.
Learn more about our emergency response to the earthquake in Haiti.