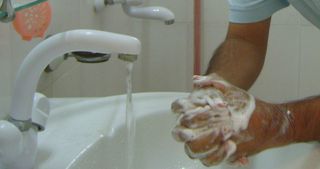 By Save the Children's Manager of School Health and Nutrition in Pakistan

Pakistan
October 8, 2010
Have you washed your hands today?
What may seem to be a common practice to you is not so common in other parts of the world. 
Next week, Pakistan will join countries around the globe to promote "Global Handwashing Day" on October 15. 
Why the need for a Global Handwashing Day? 
Each year, children worldwide miss 272 million school days because of diarrhea. One of the easiest ways to help prevent the spread of diarrhea and other diseases is by washing your hands.  But many school children, including children here in Pakistan, have no access to clean water or soap at their schools.
Last year, on the night before Global Handwashing Day, I received a text message.  It said, "Washing hands with soap can reduce 30% of diarrheal deaths in children."  Several more text messages rapidly followed, each highlighting the benefits of handwashing.
One of Save the Children's education officers in Khyber PakhtunKhwa Province (KPK) came up with the idea for the texting campaign as a way to spread the message to a lot of people in a short time.  And, the best part — it cost almost nothing.  He estimates that up to 3,000 teachers, community members and parent-teacher council members at the 150 schools where Save the Children works participated in the texting campaign, sending messages to their family and friends. 
This year, we have lots of fun school activities planned, from poster competitions to skits to street walks with public officials, teachers, community members and children.  
We will be posting photos of some of our activities and others from around the globe here on our blog, so we hope you'll check back on October 15.  Let us know what you are planning for that day, too.
Looking for a way to get involved?  Why not share Save the Children's new "dirty word" video on germs and the importance of handwashing.