Katherine Brown, Information and Documentation Specialist, Education and Child Development department
Moscow

Wednesday, September 29, 2010
 Moscow is known for its architecture, its ballet, and as the setting for "The Bourne Supremacy." But this week, Moscow turned its attention to the world's babies and toddlers, when it hosted the first-ever global conference on Early Childhood Development and Education.
More than 50 ministers of education, finance and health attended the UNESCO-sponsored event, designed to elevate the need for countries to invest in early learning opportunities globally, and to engage them in committing political will and resources to early childhood development programs.
Research shows that children with early learning opportunities tend to do better in school and in life.  According to a 2006 UNICEF report, more than 30 governments had established national early childhood development policies, and more than 70 countries had national commissions coordinating these programs.  Yet, more than half of the world's governments do not have any policy or mechanism in place for early childhood development.
So you can see why there is a need to focus on early learning globally, beginning at infancy.
Save the Children is here to share some of our learning and to learn from others, too.
Today, Save the Children's senior director of Early Childhood Development Pablo Stansbery, PhD., spoke on a panel, which examined early childhood education in emergency and post-emergency settings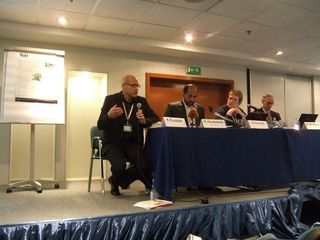 Here are a few of the points that Pablo shared:
 
Early learning experiences matter for young children, especially in emergency situations, and social interactions are key. Young children interpret new experiences through interaction with caregivers.
When governments are developing emergency preparedness and response plans (EPRP) as well as Disaster Risk Reduction plans (DRR), these plans should include an early childhood development component. 
In order for these plans to be effective, governments must provide guidance and training for caregivers and emergency responders on meeting the needs of children.
Nepal, for example, has held education in emergencies training sessions that included an early childhood development component. The government also included early childhood development in its national emergency response policy, and it provided kits for use in safe and secure areas of emergency settings tailored to young children. Those kits contained games, stories, reading and play materials for babies and toddlers, as well as for school-aged children.
In emergencies, all sectors must be integrated to provide care for infants and toddlers, not just the education sector. In fact, health is also critical – and Water, Sanitation and Hygiene (WASH) elements in particular are important.  For example, families and caregivers need clean water to wash and sanitize toys.   
Two helpful resources for more information: Even in Chaos: Education in times of Emergency by Kevin M. Cahill, M.D.; and a special section in the July/August 2010 issue of Child Development, which focuses on the developmental impact on young children after emergencies.
The three-day conference ended today with the adoption of a framework of action, which outlines a number of challenges that must be tackled to achieve global Early Childhood Development and Education goals. These include addressing the need for greate r political commitment, public funding, and external support and effective delivery of services – a framework of goals that does not require a great super agent like Jason Bourne to tackle. Just committed governments and communities working together.