Kathryn Koonce
Global Sponsorship Operations Manager, Save the Children
Tuesday, September 28, 2010
This post is the first in a two-part series written by Kathryn while on a trip to our sponsor-funded schools and community centers in Malawi.
Driving down a reddish dusty road in a four-wheel drive vehicle—the only car on the road—there is a pleasant smoky smell in the air and we are covered in a layer of grainy auburn dirt. We pass women in colorful cloths, some of them with children tied to their backs with another piece of cloth, gracefully carrying unthinkably heavy weights on their heads with ease. Brick houses and small shops dot the flat, dry landscape and neatly organized mounds of dried manure border the road. The manure will fertilize maize and vegetable crops during the rainy season which starts in November.
We are in southern Malawi, driving from Blantyre to the Zomba region where loyal Save the Children sponsors like you help support child care centers, schools, and "reading camps". We are a team of Save the Children staff from our home offices in Connecticut and Washington, D.C. working with our colleagues in Malawi to makes sure that the sponsorship programs you support are delivering the maximum benefits possible to girls and boys. We're accompanied by our Malawian colleagues – two education experts, a writer, and a driver.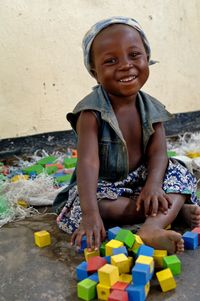 Three-year-old Elufe playing with colored blocks at a Save the Children supported ECD center in Malawi.
Photo Courtesy: Michael Bisceglie
When we arrive at the child care center staffed with volunteers and packed with children under age 5, we are greeted by curious mothers with babies in tow, tied to their backs, some of them holding another child by the hand. A group of giggling children from the primary school run up to us to see the car and the visitors inside. They share bright smiles and wave cautiously at the unfamiliar site. A large group of young children enthusiastically repeat after their teacher in Chichewa, the local language, under a thatched roof in a red brick structure with waist-high walls that let parents see in and children see out. Hundreds of bricks are rested in piles nearby to eventually expand the center. Two mothers stir a large pot of porridge and fill a bucket with water from the nearby well for hand-washing.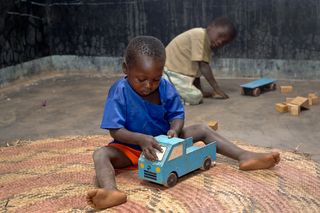 Four-year-old Peter playing with a toy truck. He attends a sponsorship supported Early Childhood Development program in Malawi. Photo Courtesy: Michael Bisceglie
We meet with the school leaders as well as the caregivers who staff the center – many of whom are parents of the children attending the program. They sit on straw mats and bricks; many of the women nurse and calmly tend to fussy babies as they speak with us. They explain that they are happy with the positive changes they see in their kids. Before – the children would hang around the villages with little to do. Now, they interact with each other and with their caregivers; they talk, they sing, they jump and clap. The parents also talk about the benefit of having time to do other things like prepare goods to sell at the market or tend to their crops while their young children are safely cared for by trained volunteers at the center.
_____________________________________
Click here to find out about the rest of Kathryn's journey and learn how other Save the Children supported schools are doing in Malawi!
Interested in joining our community of sponsors? Click here to find out more