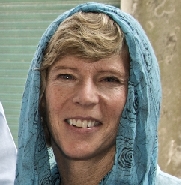 Carolyn Miles, Chief Operating Officer, Save the Children
Swat, Pakistan
Monday, September 6, 2010
 The water has receded in Swat but has left behind vast needs.    
Over 1,600 people died in the floods, many of them in this area when water from the mountains came rushing down into villages, bringing lots of large trees and debris, which tore away bridges, sheared off houses along the river and swept away whole villages. One of our staff at the local Save the Children office showed us pictures of that day – torrents of water running through what was the main street of his village.  He told me stoically that the next day the main part of the village was gone. He lost several friends to the rushing water.    
It will take a long time to get things back to normal in an area that was considered to be one of the most beautiful in the country, with steep green mountains, lush orchards and farms, and many streams and rivers. It used to be a place Pakistanis and visitors came to get away from the heat and crowds of the city. 
That won't be true for a long time now.       
Swat is not unaccustomed to misery. This also is an area that was devastated by conflict the last year, with heavy shelling between the Taliban and army displacing tens of thousands. Families were just starting to return to their homes and beginning to recover when the heavy rains hit this July.       
Children are suffering from diarrhea and skin diseases caused by dirty water. They need to get back to normal routines and start school again. They were happy to see us today but several told us with sadness in their eyes about how the water rose so quickly, forcing some of them out their homes in the middle of the night. When they returned many of their homes were missing or damaged, their land eaten away by the surging river.    
The greatest needs right now are still for the basics — household supplies like buckets, jerry cans, soap and pots and pans as families lost everything. Food is also needed as fields were swept away along the banks of the river.    
I saw a distribution of household and hygiene kits, a tent distribution, a health clinic and hygiene training, and saw the first day of our food voucher program. With this program, funded by Food for Peace, we are able to give families vouchers that they can use in the local market to buy the foodstuffs they most need. Our staff who manage the program told us "This works so well because it isn't a hand-out and it lets people buy what they want from the local shopkeepers". The vouchers will buy enough food for a month and support the local economy as well.    
I met a young girl of about 13 years old. Because of the fighting, she had been out of school for several years. She had recently returned home and thought this would be the year she could start school again. Sadly, the floods have damaged her school and now she must wait again to start back. Without help, she and others like her will miss out on all the opportunities that an education offers.       
Save the Children's work on distribution of non-food items, mobile medical clinics, food voucher distribution, and child-friendly spaces is helping tens of thousands of people in the Swat valley. It is just a part of the work we are doing in many areas along the main rivers where more than 17 million people have been affected by the floods.    
As our staff in Pakistan work hard to meet the needs of children here, they worry that they will not have enough resources and people will start to forget about the tremendous difficulties still to come. The international humanitarian community and people around the world need to continue to help Pakistan recover from this largest disaster they have ever experienced.
__________________
For more information on Save the Children's response in Pakistan and for ways to help, please visit our Pakistan Flood Emergency page.