Cecilia Ochoa, Senior Specialist for Basic Education & Literacy
Washington, D.C.

Wednesday, September 8, 2010
Imagine what your life would be like if you weren't able to read. What basic tasks would you be unable to do? What simple pleasures would you be unable to enjoy? 
Reading is a skill many of us take for granted. But for millions of children in the countries and communities where Save the Children works, reading remains a struggle.   
Parents typically have little time or training to help children learn the alphabet, or to make the link between the words they speak and the letters on a page. Books are few and far between, and are written in the school language, which is different from what children speak at home.   
Teachers without training often teach reading in the same way they were taught—mainly through drills and repetition, with limited time spent on teaching key skills or on ways to learn as you read text.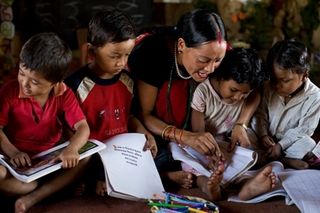 Save the Children's Literacy Boost program promotes training teachers and
creating a culture of reading outside of the classroom. 

Photo Credit:  Brent
Stirton for Save the Children
In 2007, Save the Children set out to measure how well children in the early grades in Nepal, Malawi and Ethiopia could read. The results were startling.  We found an alarming number of children unable to read even a single word in a text or passage.  
We decided we needed to do something to change this. That's how Save the Children developed Literacy Boost, our signature program for helping children learn to read. Here is how it works: 
Through Literacy Boost, children in the early grades are given opportunities to practice their reading skills both in-school and in their homes and communities. Book Banks of storybooks in the local language are provided so that children have materials to read other than their textbooks.  
Community volunteers also are mobilized to conduct weekly Reading Camps for children, where children can listen to stories, read books, and play games to improve their reading skills. Parents are coached on activities they can do with their children at home to improve language skills, even if they are not literate themselves. 
Teachers are trained in strategies for teaching the five skills needed for reading. And children's reading skills are measured at the start and end of the school year to track their progress and identify where they still need more help.   
During a recent trip to Nepal, I was heartened by how the schools and communities had embraced the program.
"Before Literacy Boost started here in Kailali, there were no storybooks for children available in the community," Anita, a Reading Camp facilitator told me. "Now, they have story books and fables in both Nepali and Tharu. This has brought the habit of reading to the community. Even parents are more interested about reading now." 
The results are encouraging. In a year's time, children who participated in Literacy Boost had increased their reading scores significantly compared to those from non-assisted schools.  
But it is the spark that lights up children's eyes when they talk about books that especially inspires me.
"I like the stories, especially the one with the monkey," said Kamal, age 7, one of Literacy Boost's participants in Nepal. "When I borrow a book to take home, I can read it to my whole family. We can all enjoy the story together."
Ishwor Khatry, Save the Children's tireless education coordinator in Kailali, shares my sentiment. He said, "Through this program, we can really see that we are making a difference."