Friday, August 13, 2010 
Save the Children's Reporting Coordinator in Pakistan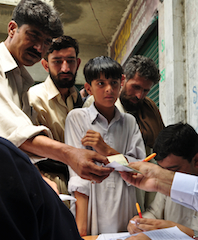 Sajjad, 14, lives in the suburb of Jail in the city of Bahrain, Swat. Jail is an urban locality of more than 50 households and lies on the banks of the River Swat. Besides residential houses, it is full of commercial plazas, restaurants, hotels and guesthouses catering to tourists from all over Pakistan. Sajjad is the eldest of five siblings and studies in Class 7 at Swat Education Complex, a private school in Bahrain.   
Sajjad's father works as a school teacher and owns an apple farm near River Swat. He wishes Sajjad to excel in his education and study in a university.  
A year ago, Sajjad's family faced great hardship when they were displaced from their homes by the conflict between the Pakistan army and the Taliban in Swat. Sajjad's father could not earn a single rupee for months since schools were closed and the apple farm stagnated in his absence. However, they had quickly rejuvenated their lives after the conflict ceased.  
On Wednesday, July 28, 2010, unprecedented monsoon rains caused flash floods in Khyber Pakhtunkhwa, including Swat. Areas bordering the River Swat were hit with vast torrents of floodwaters, causing widespread destruction of life and property. Bahrain was one of the worst affected cities in Khyber Pakhtunkhwa – entire streets and hamlets were washed away within 24 hours. The suburb of Jail was terribly devastated by the watery onslaught.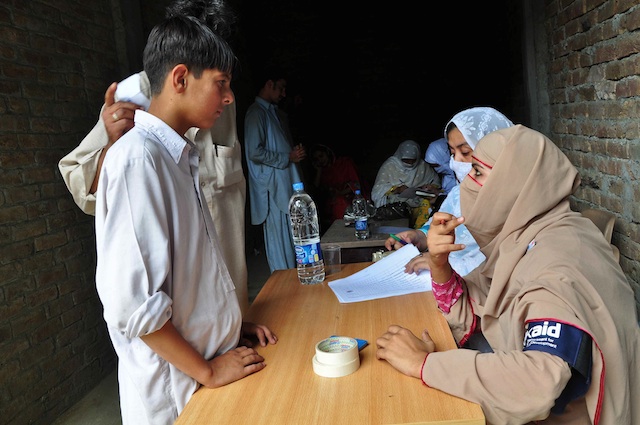 "It had been raining for two days when we were told that Jail was surrounded by water," recounted Sajjad. "Our neighbors were hastily running uphill. We collected all our precious goods and moved into an uncle's house in a safer area of Bahrain. Later that day we found that our house had been destroyed by the flooded river."  
The next morning, Sajjad's father was shocked to see his entire apple farm ruined by murky floodwater. Since then, he has fallen ill and remains depressed throughout the day.   
Sajjad said he lost all his books, clothes and playing equipment. With the efforts of notable community members, food rations are being distributed in Bahrain but they are not enough for Sajjad and his host uncle's families. 
"I do not know when we will ever have a place of our own," said Sajjad.  
Save the Children began assisting flood survivors immediately after the rains ceased in Swat. Separate teams assessed damage and identified the neediest families in the worst-affected areas including Bahrain. Save the Children first selected families who had lost their homes to receive tents with bamboo and a shelter kit for setting up temporary housing structures. Since they had lost their home, Sajjad's family received shelter support.   
 Accompanied by his uncle, Sajjad traveled for five hours to reach Save the Children's distribution center. They were among the first in line to receive the promised tent, bamboo, buckets, water containers and other shelter items. His family was eagerly awaiting his return knowing that they could then move into their own space and begin rebuilding their lives.  
An excited Sajjad said, "I know these things will not replace my home but at least it will be my family's first step toward a new home."          
Learn more about our emergency response to the flooding in Pakistan
Help Us Respond to the Pakistan Flood Emergency. Please Donate Now.