Monday, August 9, 2010 
Save the Children's Reporting Coordinator in Pakistan
Hussain, age 65, is from a small village in southern Punjab. He has lost all his belongings and now lives under the open sky without shelter. He has lost hope.
"We were sitting on a high patch of ground expecting that we would not be touched by flood waters. Suddenly, we saw that the water was gradually rising so I decided to take my family and animals to a safer place," said Hussain.
"I did not get a chance to pick up any other belongings. The flood waters swept away all our food, clothes, utensils and other household items."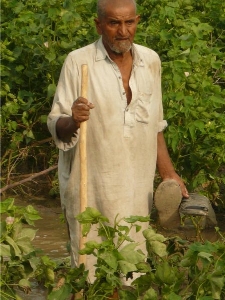 "Along with my family, I walked five hours to the railroad station, which is on high ground. For three days no one provided us food. We don't have clothes to replace the ones we are wearing. Due to continuous rain, all our clothes are wet," said Hussain, his eyes welling up with tears.
Now, as he sits on the ground, under the open sky in the rain, he expects some miracle to happen so that he can to return to a normal life.
______________________________________________________________________________________
Learn more about our emergency response to the flooding in Pakistan
Help Us Respond to the Pakistan Flood Emergency. Please Donate Now.