Thursday, August 26, 2010 
Save the Children's Reporting Coordinator in Pakistan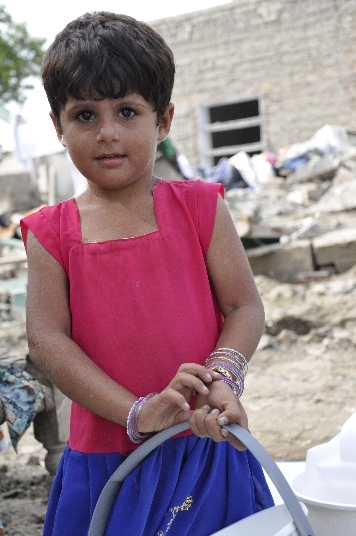 Ishrat, a 6-year-old Pakistani girl, calls the village of Brahimwala home. Brahimwala is situated near one of the several canals which irrigates the wheat, corn and rice fields of district Muzafargarh with water from the River Indus.
In late July, epic monsoon rains caused flash floods in the River Indus. Vast torrents of the flood waters totally collapsed the banks of the river in southern Punjab, especially in the districts of Muzafargarh, Rajanpur and Dera Ghazi Khan.
"We heard in the late afternoon that a massive flood was coming towards Brahimwala." said Ishrat's father, Talib, a sharecropper. Ill-prepared for the disaster, they grabbed some precious items such as food and clothing and rushed towards the city of Muzafargarh.
"My mother grabbed me as we ran out of the village," Ishrat remembered.
That evening the village was struck with flood waters at speeds of 30mph.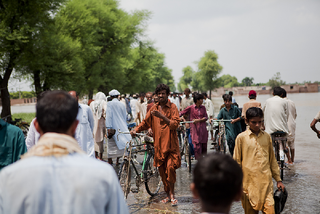 The mud and brick houses collapsed within minutes as the entire village was submerged in six feet of water. Ishrat and her family were part of the mass exodus of 300,000 people who fled to Muzafargarh by motorized vehicle, donkey-carts and on foot in search of safer ground
"We walked for many hours that night and slept under a tree." Ishrat said.
In the next few days, the government, armed forces and local charities had set up temporary shelters and began providing the displaced families with cooked food.
However, Talib said, the distribution of food was chaotic, "we were lucky to receive even one meal a day."
Just when they were expecting the waters to recede, approximately 700,000 displaced people in Muzaffargarh were shocked to hear that they had to evacuate the city. A single road was used by these people to reach neighboring Multan. Ishrat and her family moved into a generous villager's home near Multan city – 12  people in three rooms. They survived for 10 days on the handful of food rations provided by their hosts. When they heard that the flood waters finally receded from Brahimwala, they immediately returned home.
However, the arrival home was quite painful.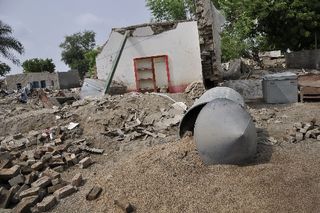 "Everything I owned is either destroyed or covered with mud." Talib said. "My share of the harvested wheat is ruined and my home has entirely collapsed."
As the rains continued, Ishrat and her family were hungry and had no roof over their heads. Devoid of all possessions and savings, the family was destitute and vulnerable.
Save the Children's teams began to assess damages and select the neediest families to receive food rations and temporary housing items in Muzafargargh district. Due to extensive flood damage, Brahimwala's residents were one of the first areas selected for emergency support.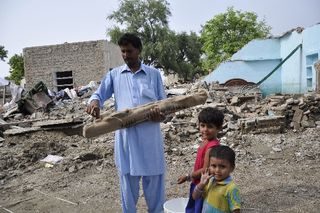 "The people came to our village and asked us questions," Ishrat said. "They promised to give us some things to make our home."
Talib was delighted the morning Save the Children handed him a tent, blankets, jerry cans and buckets for his family. Food rations — including 170 pounds of wheat, 30 packets of micronutrient biscuits for his children and 5 liters of cooking oil — were provided the following day.
Ishrat ran around the rumble of her home clutching a water bucket, excited that she will now have a home.
"I have no words to describe how grateful I am. We have a roof over our heads and enough to eat so I don't feel hungry anymore."