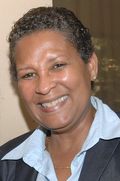 Michele Beauvoir Chandler, Save the Children Haiti, deputy director of human resources 

Port-au-Prince, Haiti
May 18, 2010
Three days after the devastating earthquake in Haiti, a tiny 2-year-old girl named Winnie was pulled from the rubble by an Australian TV crew. At the time, Save the Children medical staff treated her and determined that despite suffering from dehydration, she would recover.
Four months later, I am thrilled to report that Winnie is doing quite well. She is living with her Uncle Frantz and Aunt Gertrude in Port-au-Prince. Her uncle says that she is beginning to talk and is becoming less timid. Winnie will be celebrating her third birthday on June 26.

Click here to view a slideshow of Winnie's miraculous recovery.
Learn more about our emergency response to the earthquake in Haiti.
Help Us Respond to the Haiti Earthquake Emergency. Please Donate Now.
YOU CAN DONATE $10 TO THE HAITI EARTHQUAKE RELIEF FUND BY TEXTING "SAVE" to 20222 (US Only). Standard message rates  apply.