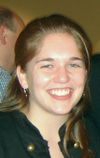 Michelle Morrison, Save the Children, internet communications intern
New York, New York 
April 12, 2010 
 It was nothing short of magical.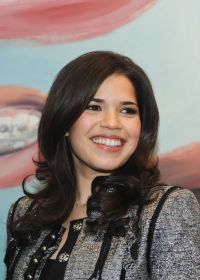 At the request of America Ferrera, a roomful of people quietly knelt to the floor to watch a video depicting the small village in Mali, Africa where America is working with Save the Children to build a school. 
"We're talking about four walls," she said to the crowd, as she told the story of the people she met and the things she saw on her trip to Mali. 
America stood tall on a small platform, looking over the crowd and insisting that every child has the right to an education, especially in Mali, where more than nearly 800,000 children do not attend school. (Pictured at right, America at the auction. Photo Credit: Susan Warner / Save the Children)
Her voice swelled and cracked as she described how much the people of Mali have done for themselves already, and how simple it is to give them the hand up they need: four walls, desks, teachers, sanitation facilities. 
Nearly 200 people were at the Axelle Fine Arts Gallerie in New York City on Monday night for an art auction of paintings featured in an episode of ABC's "Ugly Betty." The money raised by the event will go to support a school that America and Save the Children are working to build in Mali. 
America, a Save the Children Artist Ambassador for education, was joined by fellow cast members Daniel Eric Gold, Mark Indelicato, Judith Light, Ana Ortiz and Vanessa Williams. 
Cast members stood atop a small platform and played auctioneers, joking with the crowd and egging on the bidders.  
Pictured at right, Mark Indelicato and Ana Ortiz, who play Betty's nephew Justin and sister Hilda on the show, played to the bidders, saying, "Ten years from now, when we're doing the second Ugly Betty movie, this will be worth a lot!" (Photo Credit: Susan Warner / Save the Children)
By the end of the night, nine paintings were sold by live and silent auction. Some cast members lingered afterward, mingling with guests, signing autographs and nibbling on the hors d'oeuvres donated by KGFare Catering & Events. 
From where I stood near the entrance, it was easy to see and feel the enthusiasm and generosity of everyone who attended. Even the coat room attendants donated their tips to Save the Children at the end of the evening. As the room emptied, I looked around at all the iconic images of America as Betty Suarez and I thought to myself, "This is what it really means to be a star."
View the slideshow below featuring photos from America Ferrera's visit to Mali.