Sarah Tyler, Save the Children, emergency communications manager
Port-au-Prince, Haiti
March 9, 2010
At Cejecodema school, Jimmy, 10, clutches his new notebook and pencils close to his chest. Today is the first day he has returned to school since the earthquake on Jan. 12, 2010 turned his life upside down.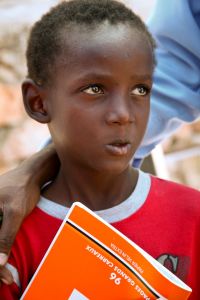 Jimmy is just one of many children in this poor community in Martissant, an area of Port-au-Prince, who have the opportunity to return to classes because of Save the Children.
"I like to study and I want to learn," he said. (Pictured at right: Jimmy waiting for school to begin. Photo Credit: Rebecca Janes/ Save the Children).
In Martissant, where the earthquake destroyed many homes and buildings, large tents ensure that children can continue their education, play and interact with each other in a safe environment.
"My school fell in the quake but I don't want to go back to it because I am afraid to have concrete over my head," said Jimmy. "I like this space because it is outside. I feel safe here."
Over the coming weeks, Save the Children plans to construct about 300 safe, temporary classrooms to help vulnerable children in earthquake-torn areas. This would include repairing some less damaged structures. Pictured below are some Martissant buildings that were destroyed by the earthquake (Photo Credit: Rebecca Janes / Save the Children).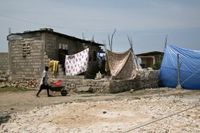 This disaster has compounded already daunting educational challenges facing Haiti, where only 51 percent of children attended school before the earthquake and where, on average, children only complete four years of schooling. 
To ensure that children continue to have access to education, Save the Children plans to work with government, private and community schools alike.
At Cejecodema, Jimmy says he will study hard to be a mechanic. 
"I want to learn how to fix things so I can be helpful to my family and the community," he said.
Help Us Respond to the Haiti Earthquake Emergency. Please Donate Now.

YOU CAN DONATE $10 TO THE HAITI EARTHQUAKE RELIEF FUND BY TEXTING "SAVE" to 20222 (US Only).
Learn more about our emergency response to the earthquake in Haiti.