Laurent Duvillier, Save the Children manager, media and communications
Port-au-Prince, Haiti
March 2, 2010
3-year-old Joseph was buried in debris when his aunt, Immalula Bordeau, age 22, rescued him alive. He lost both parents in the earthquake.
 "Every time Joseph hears a helicopter, he gets scared," said Immalula. "It reminds him the sound of the earthquake."
Today, Joseph is learning and playing with other children in a community school supported by Save the Children. He is pictured at right, learning at school on Feb. 17, 2010. (Photo credit: Louise Dyring)
Perched high on the hills above Port-au-Prince, the Bazilo Community School stands amid the devastated neighborhood of Carrefour-Feuille. The Haitian Ministry of Education has yet to assess if the building is safe.
In the meantime, classes continue on this steep slope under the open sky.
Every inch of flat space is used to work on the alphabet, review multiplication tables or practice writing. No walls separate the classes, which serve 120 children between the ages of 3 and 12.
Despite the shortages, the teachers and children look happy to be back on the learning track again.
Parents have brought their children en masse to Bazilo school. And not simply for an education.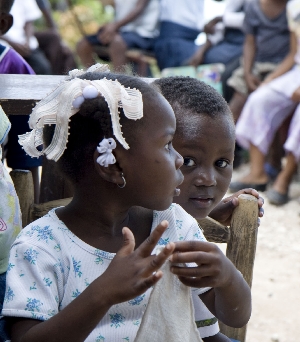 Bazilo has become a 24/7 community-based care center, an invaluable resource for kids like Joseph. (Pictured at left, Joseph playing with a friend at Bazilo. Feb 17, 2010. Photo credit: Louise Dyring)
 "As long as he can play with other kids, Joseph is happy. He makes a lot of friends at school," said Immalula, who has been caring for him. "It is good to start education as early as possible. Other schools are too far or too expensive. We simply cannot afford it."
Every night, Immalula and Joseph — and about 50 others — cram themselves in a flimsy collective tent that rests on a tiny plateau on the edge of the cliff above the school.
"It is not easy but now we know each other. We have become like a big family," says Immalula.
Save the Children has distributed educational materials (including pencils, notebooks, stationery supplies and toys) and tarps to the school. Prior to the earthquake, the school was supported by the agency's "Rewrite the Future" campaign.
Teachers will receive additional training in responding to children's emotional and social needs and helping mitigate future disaster risks.
Save the Children is also facilitating the Ministry of Education's efforts to inspect and certify the remaining schools in the affected areas of Port-au-Prince.
Help Us Respond to the Haiti Earthquake Emergency. Please Donate Now.

YOU CAN DONATE $10 TO THE HAITI EARTHQUAKE RELIEF FUND BY TEXTING "SAVE" to 20222 (US Only).
Learn more about our emergency response to the earthquake in Haiti.