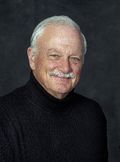 Charles MacCormack, Save the Children president and CEO
Westport, Connecticut
February 9, 2010
Last week, I testified on Haiti before a Senate Foreign Relations
Subcommittee with the hope that the Congress will hear the Haitian
people's call for assistance towards recovery and lasting development.
For the past 32 years, Save the Children has aided the people of Haiti,
providing help in situations of short-term crisis and facilitating
long-term growth.
The magnitude 7.0 earthquake that struck Haiti three weeks ago has significantly complicated Haiti's development goals.
While the Haitian people are extremely resilient and have exhibited
much patience, their challenge is daunting. It will take a collective
effort today to give the children and families of Haiti a better
tomorrow.
The U.S., along with non-governmental organizations and donors, should
intensify its commitment to building the capacity and systems of the
Haitian government and Haitian civil society to lead and manage their
own development.
Future funds must go to providing children and families access to health services, education and economic opportunities.
This is a long-term disaster and the U.S. must commit for the long
haul. Sustaining significant investment over the next 10 years will be
critical to ensuring the well-being of children and their families.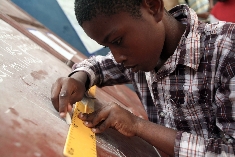 In the photo to the right, Douceset, a 14-year-old boy living in the tent city called Saint Therese, is able to study mathematics at one of the Child Friendly Spaces set up by Save the Children (Photo credit: Robert King / Polaris).
We must support Haitians to 'Build Back Better' for the children of Haiti.
Learn more about our emergency response to the earthquake in Haiti.
Help Us Respond to the Haiti Earthquake Emergency. Please Donate Now.

YOU CAN DONATE $10 TO THE HAITI EARTHQUAKE RELIEF FUND BY TEXTING "SAVE" to 20222 (US Only). Standard message rates  apply.