Kathryn Bolles, Save the Children emergency health and nutrition director
Port-au-Prince, Haiti
February 16, 2010
The rainy season is approaching in Haiti, and we know that stagnant water and poor sanitation provide a fertile breeding ground for malaria and diarrhea, which are among the biggest killers of babies and young children.
The situation is made even more dangerous because in the aftermath of the devastating earthquake that struck Haiti in January, clean water and hygiene supplies are in short supply.
Malaria and diarrhea are easily preventable and treatable. So it is crucial for people to have access to accurate information in their language so they have the tools to protect their children.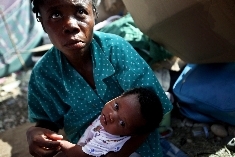 This information is especially important for mothers like Fiony (pictured at right, caring for her 3-month-old baby Rosemary) Photo Credit: Adriana Zehbrauskas / Polaris.
Music is a natural entry point. When people hear a song they like, they are likely to remember the tune and the message.
With this in mind, Save the Children is providing broadcast-quality Creole songs to radio stations in Haiti.
Few people have television or electricity, but they are accessing information by radio.
Songs that incorporate lifesaving heath and nutrition messages can take advantage of this fact, reaching more people and better saving the life of newborns and babies.
The songs created by this project, in collaboration with the Ministry of Health and with support from the U.S. Agency for International Development, will be aired on local radio stations and Creole services provided by international broadcasters.
Using the power of music, Save the Children is taking action today to save a baby's life tomorrow.
To listen to the Creole songs and messages, please click here.
Learn more about our emergency response to the earthquake in Haiti.
Help Us Respond to the Haiti Earthquake Emergency. Please Donate Now.
YOU CAN DONATE $10 TO THE HAITI EARTHQUAKE RELIEF FUND BY TEXTING "SAVE" to 20222 (US Only). Standard message rates  apply.