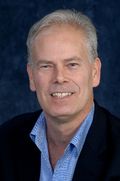 Lee Nelson, Save the Children country director

Port-au-Prince, Haiti

February 9, 2010
The majority of Haitian children were vulnerable before this disaster and now, a month after the earthquake, their health, well-being and future are at increased risk.
Their families are caught up in a daily struggle to meet basic needs and rebuild their lives. An estimated 1.5 million children have been affected by the earthquake.
We are moving quickly to provide immediate aid to thousands of families, including providing food, water, household items, medicines and medical care, while we also implement programs to protect children and get them back to school as soon as possible. ( Pictured below a young child eating food recently distributed by Save the Children. Photo credit: Robert King/Polaris)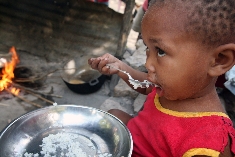 To date, our child protection program is helping more than 15,000 children through 18 mobile Child Friendly Spaces in Port-au-Prince and Jacmel.
In conjunction with UNICEF, the International Rescue Committee and the Red Cross, we are also registering children at hospitals and in camps so as to trace their families and reunite them with loved ones.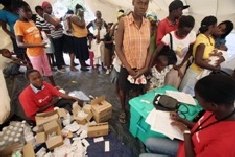 Save the Children's mobile health teams have seen thousands of patients at 45 locations in Port-au-Prince, Leogane and Jacmel. Many victims of the quake are receiving medicines distributed by Save the Children at one of these mobile tents, pictured at right. ( Photo credit: Robert King/Polaris)
In addition, the organization has distributed food to more than 120,000 people, including 72,000 children. The agency also has provided clean water to more than 59,000 people; latrines for 7,800 people; and essential items such as blankets, hygiene kits, and plastic sheeting to some 48,000 people.
This is such a wide-scale disaster that affects all aspects of society that it will take years to for Haiti's families and cities to recover.
Haitians are very resilient, but it is going to take serious and sustained assistance to help them build back and ensure a better future for their children.
Adding urgency to the relief effort, the rainy season is expected to begin in mid-March or early April.
Even under normal circumstances, poor drainage and sanitation infrastructure causes problems for the population.
This is expected to be significantly exacerbated by displacement and clogging of drainage channels with rubble from the earthquake.
Learn more about our emergency response to the earthquake in Haiti.
Help Us Respond to the Haiti Earthquake Emergency. Please Donate Now.

YOU CAN DONATE $10 TO THE HAITI EARTHQUAKE RELIEF FUND BY TEXTING "SAVE" to 20222 (US Only). Standard message rates apply.