Anna Eisenberg, Save the Children coordinator, media and communications
Washington, D.C.

February 23, 2010
When I walked into the Huckleberry Cheesecake Daycare and Preschool Center on Friday, January 29, I was greeted by a little boy manning a shiny red cash register.
"How many cookies are you going to buy?" the child asked.
When I asked him why he was selling cookies, he said "Haiti."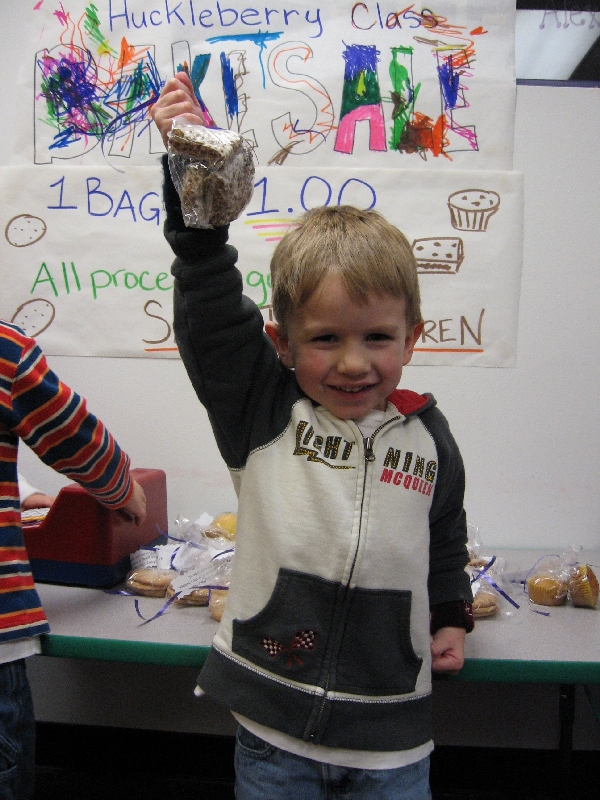 According to staff at the preschool, located in downtown Washington, D.C., the children had started talking about the earthquake in Haiti shortly after it happened. 
Though the idea of a natural disaster was difficult for them to grasp, they were upset by the thought of kids without toys. 
So the children, barely two feet tall, decided to host a bake sale. They told me that "the children in Haiti need everything from toys to toilets."
I photographed 3-year-old Jackson, pictured at right, holding up some of the goodies for sale.
Parents who walked in to collect their children, ages three to five, were met by a giant sign that read:
"BAKE SALE, ALL PROCEEDS GO TO SAVE THE CHILDREN HAITI RELIEF." 
The sale included bagged goodies, and at $1 a bag, business was good. Pictured below is a very happy, three-year-old, Ellie, holding the cash at the bake sale table.
These preschoolers aren't the only kids determined to help kids in Haiti.  In fact, students of all ages across the country have created unique fundraisers that have benefited Save the Children's Haitian relief efforts.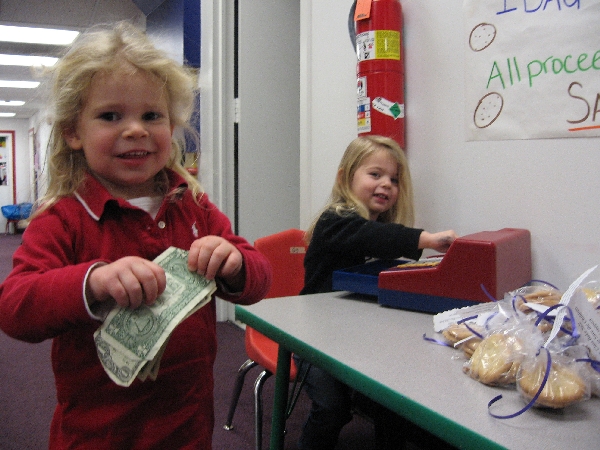 In Westport, Connecticut, more than 250 swimmers from Staples high school swim team, the Westport Swim Club and the Water Rat Swim Team swam three miles each to raise funds.
Their "Swim for Haiti" event garnered national media attention and resulted in a $45,000 donation to Save the Children.
Then there was third-grader Emma Tennaro from West Middle Island Elementary School in New York. Emma hosted a pancake breakfast at Ruby Tuesday's attended by 50 hungry people. 
Save the Children's Elle Russell, manager of school and community organizations, tells me that children and adults of all ages at schools and community groups have raised about $300,000 for Haiti relief. 
There are so many ways to get involved with Save the Children's Haiti relief efforts!
Click here to find out how you can help organize your own school or community fundraiser.
Help Us Respond to the Haiti Earthquake Emergency. Please Donate Now.

YOU CAN DONATE $10 TO THE HAITI EARTHQUAKE RELIEF FUND BY TEXTING "SAVE" to 20222 (US Only).